05-11-18 San Antonio, TX
The American Band made it's way to the biggest state in the USA this week, making a stop in beautiful San Antonio, Texas. This historic town is home of the Alamo and The San Antonio River Walk. Tourists come from all over the world to see where Davey Crockett and Jim Bowie met their demise fighting the Mexican Army for the independence of Texas from Mexico. In March of 1836, after a 13 day siege, 100 Texans including American legends Crockett and Bowie, succumbed to 2,000 Mexican troops led by General Santa Ana. Mexico maintained control of San Antonio for the next 70 years until the Texas State Legislature purchased the land. The Alamo is now the most popular tourist site in Texas.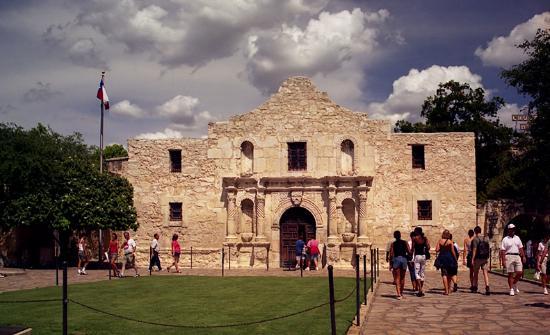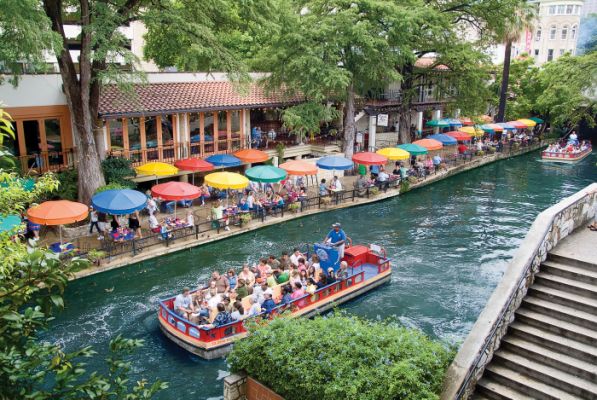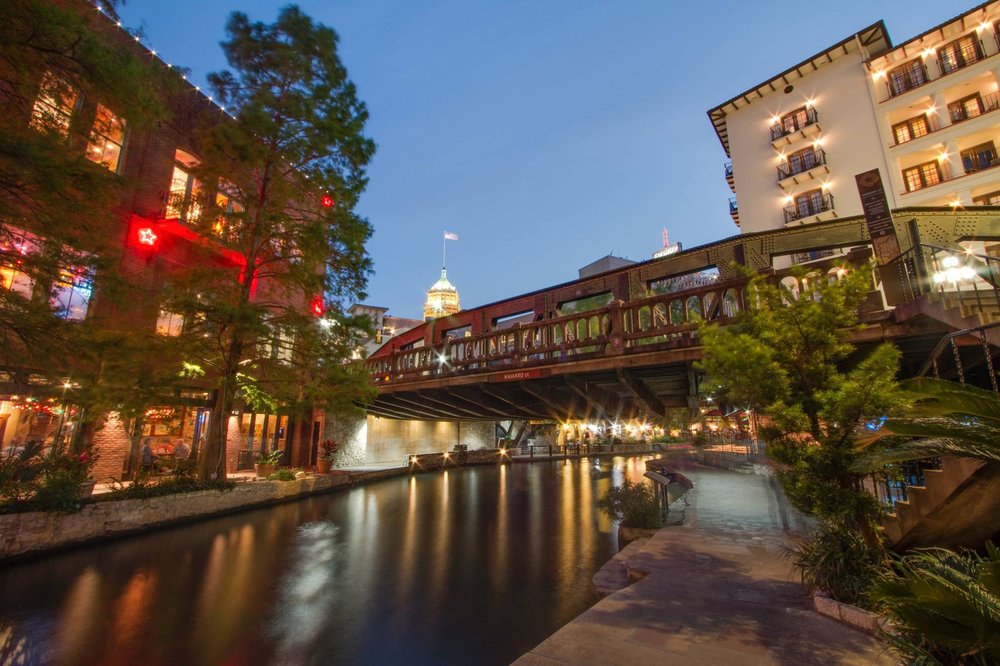 Grand Funk came to town to help them party it down this week playing a private event for the Ameritas Insurance Company of Lincoln, Nebraska. Entertaining a rowdy crowd of about 1,000, the band had them dancing and singing to all the Grand Funk Hits.
A GRAND time was had by all!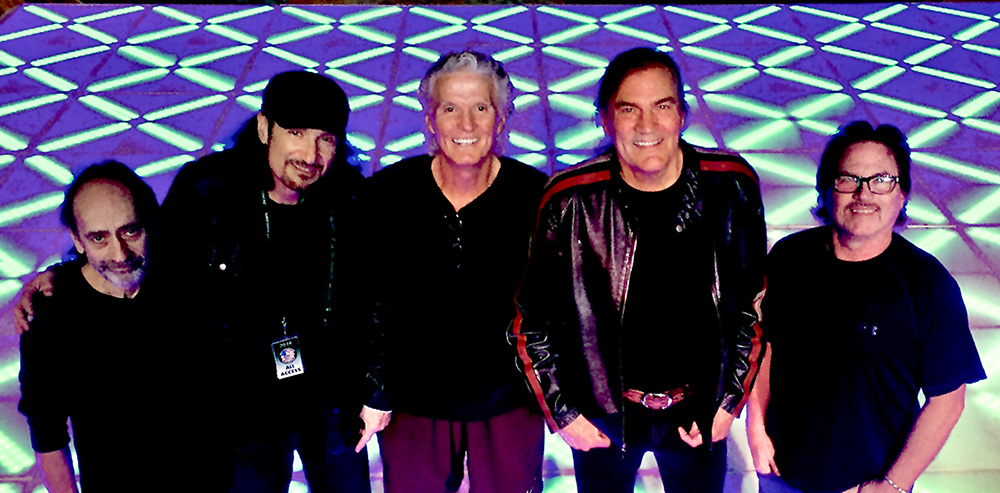 Photo courtesy of Bruce Kulick
04-28-18 Orlando, FL
After a short break in the "American Band Tour", Grand Funk fired up the crowd at Bayside Stadium in Orlando.  Welcoming back Mel Schacher to the tour made the date extremely special, and Mel left NO DOUBT as to how he got the name, "The God Of Thunder".  Welcome Back Mel!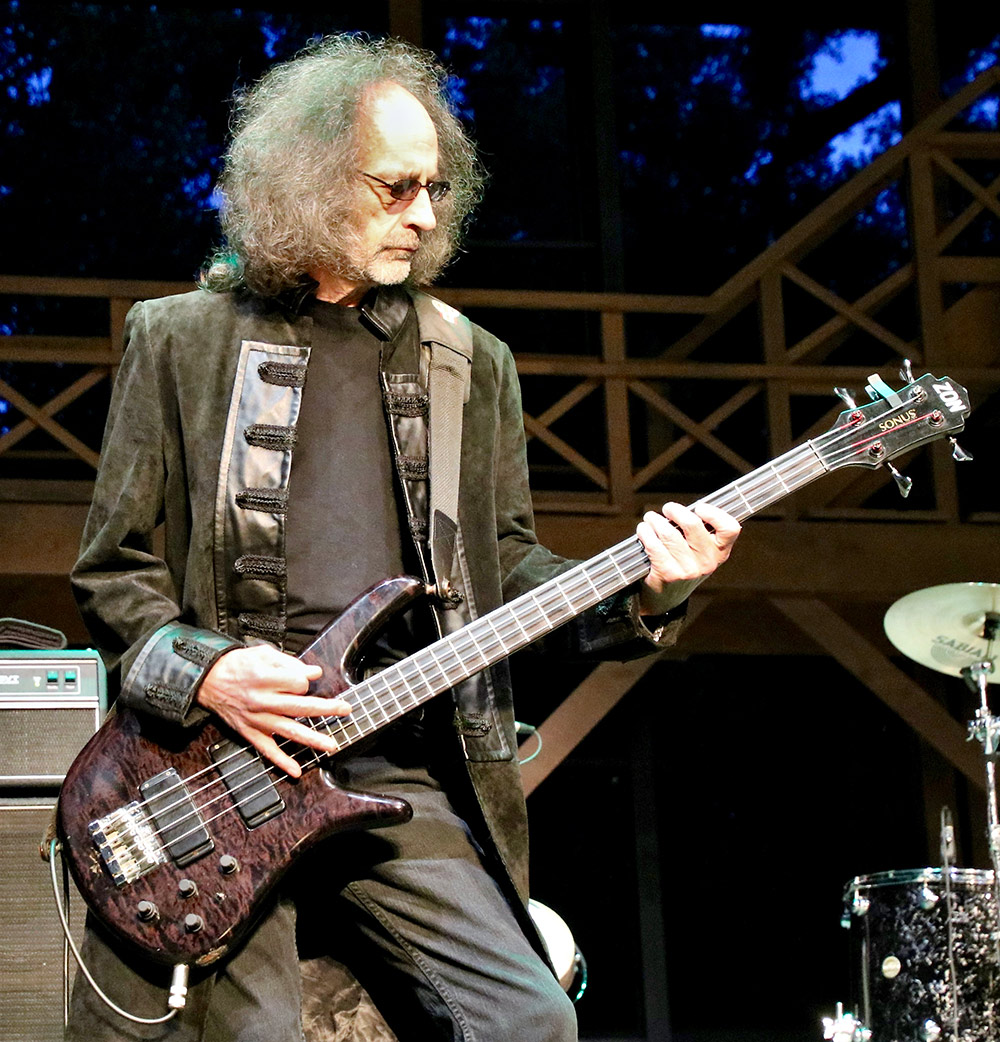 Photo by Ralph Reichenbach
GFR took the stage on a picture perfect Florida day and the crowd loved the show. Rock & Roll Soul, Footstompin' Music, Shinin' On, and The Locomotion...the crowd was singing and dancing.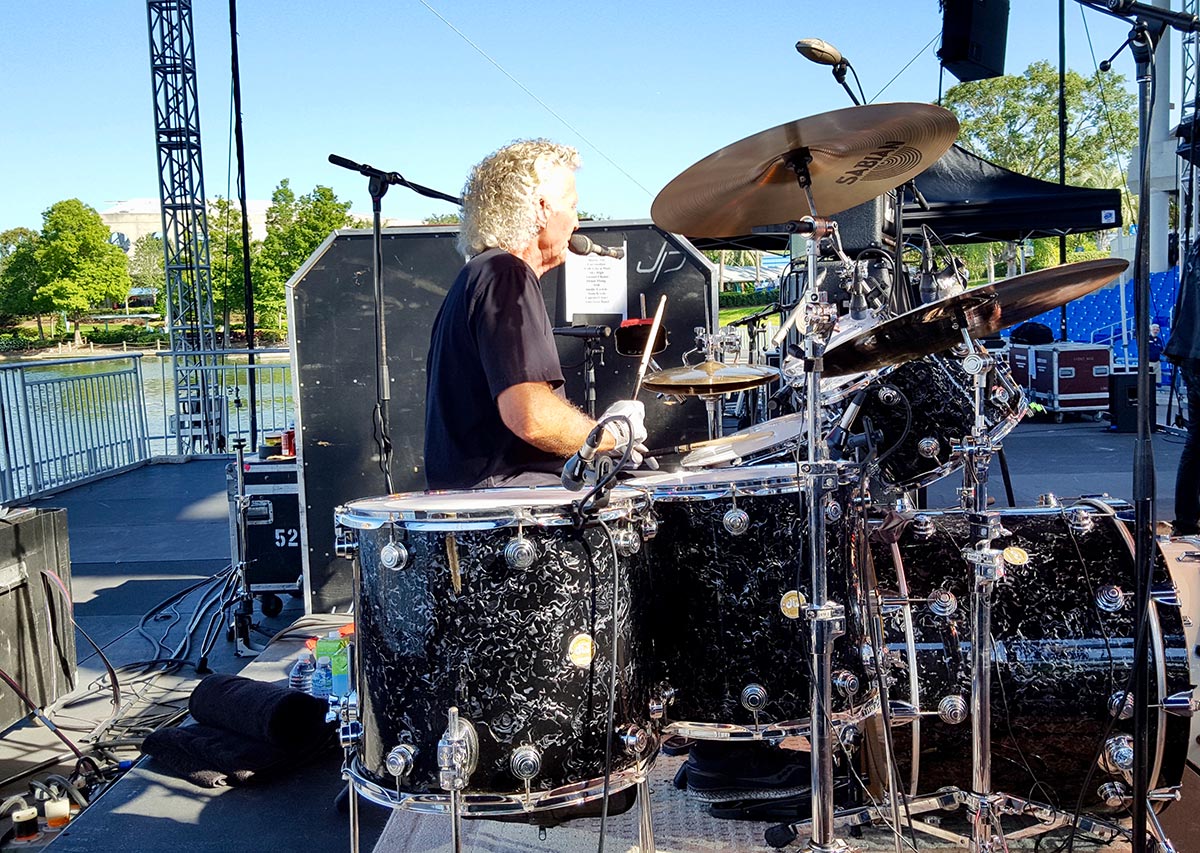 Photo by Dave Johnson
Photo by Dave Johnson
It was a terrific family day at Sea World. The Seven Seas Food Festival featured food from around the world. Orlando's tallest, fastest and largest roller Coaster, Mako. The chilling adventure of Antarctica, Empire of the Penguin. And the aquatic world came alive with sharks, whales and turtles.  And of course, The American Band Grand Funk Railroad.  Ain't Life GRAND!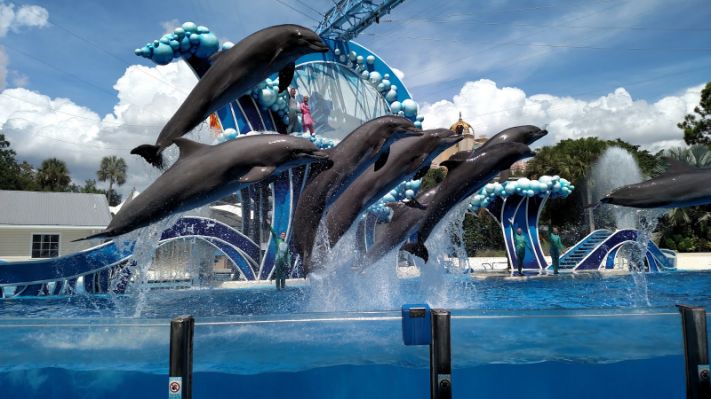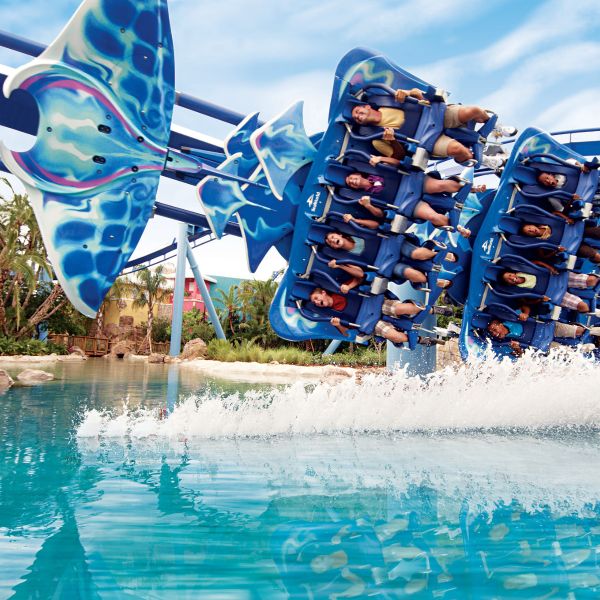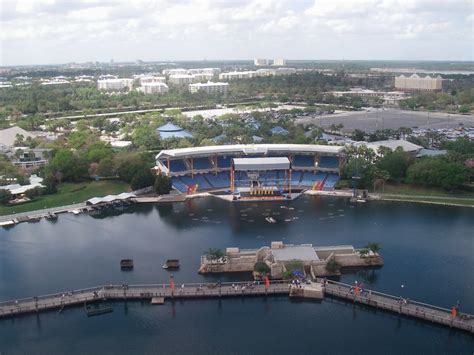 Photo by Logan Lenihan
This was Glenn Preston's final show with Grand Funk.  Glenn has been GFR's front-of-house sound engineer for the past ten years.  He has decided to retire from the biz and spend more time traveling with his wife.
We wish you all the best Glenn.  Thanks for all you've done!!  You'll be missed!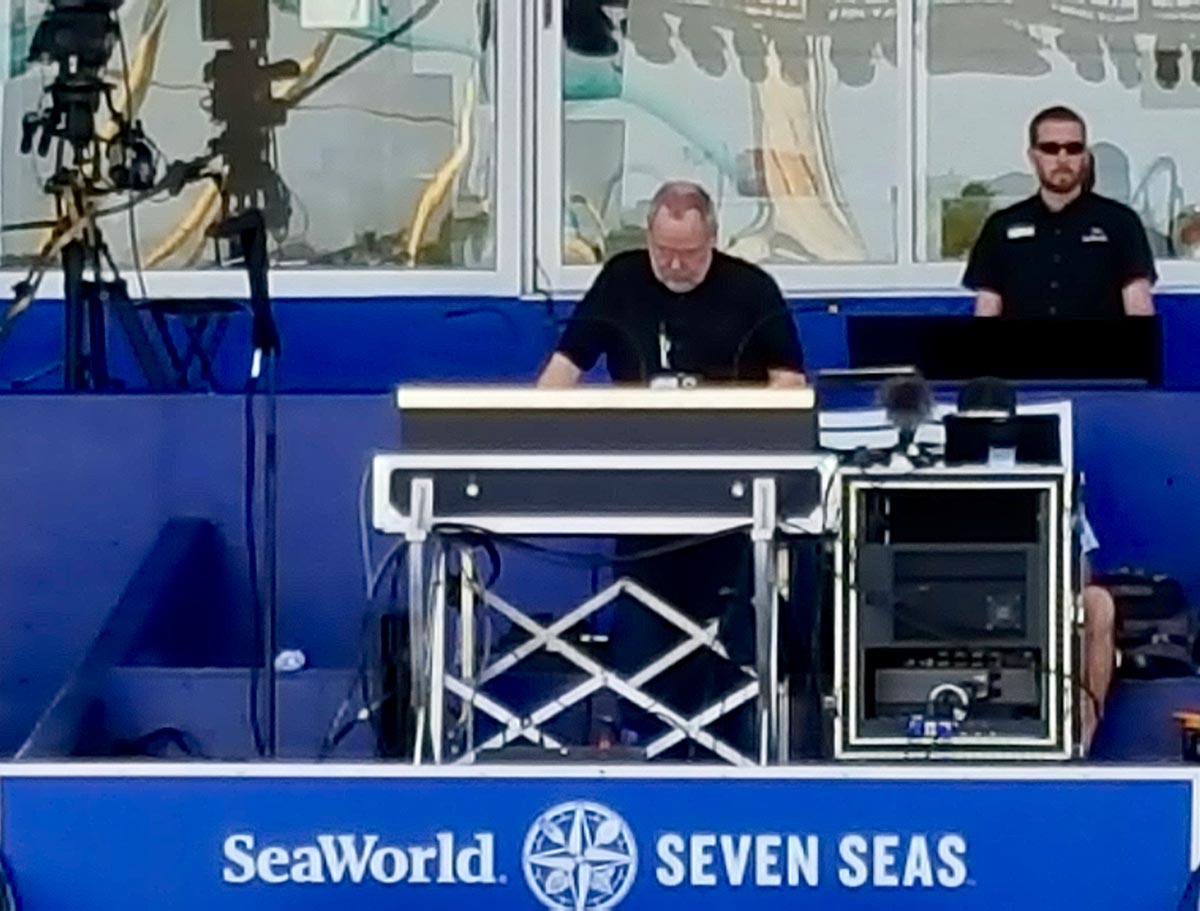 Photo by Dave Johnson
03-23-18 Lawton, OK
"OOOOOOOklahoma, where the wind comes sweepin' down the plain..."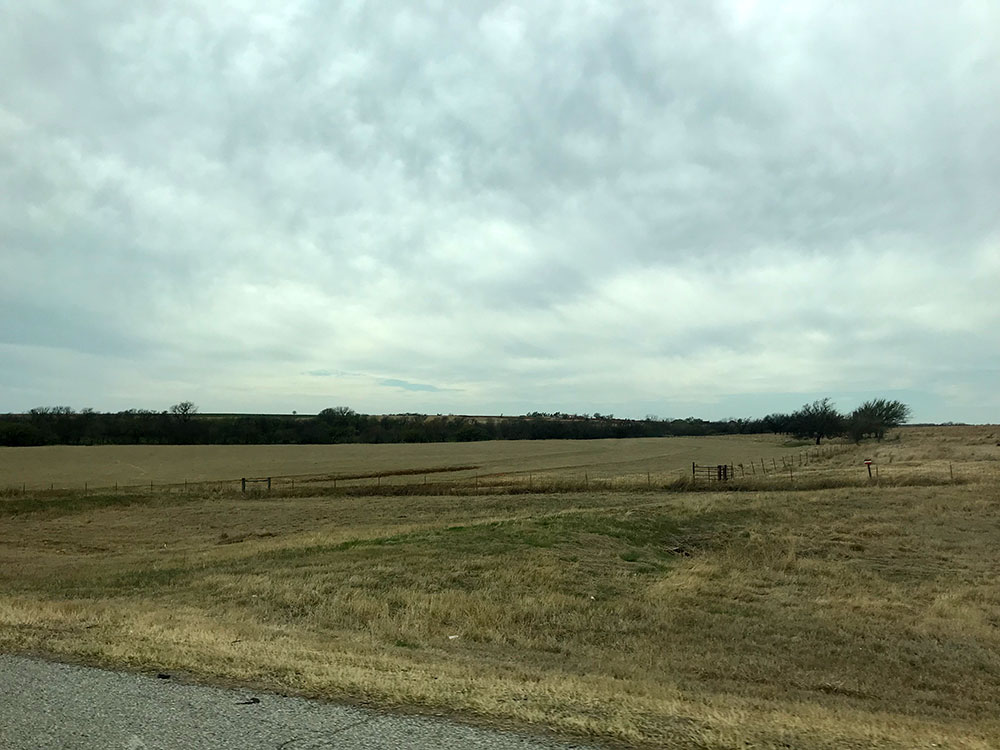 Photo by DB
Yup that's it. As you can see by the picture there is nothing out in Oklahoma to stop the winds, and the wind was 25 to 40 miles an hour the whole time we were there. Luckily, the Oklahomans don't mind and it certainly didn't stop them from coming to see The American Band at the Apache Casino Resort. The SOLD OUT showroom was primed and ready for Grand Funk Railroad as they hit the stage for an incredible high energy show. The guys had the crowd on their feet and dancing in the aisles.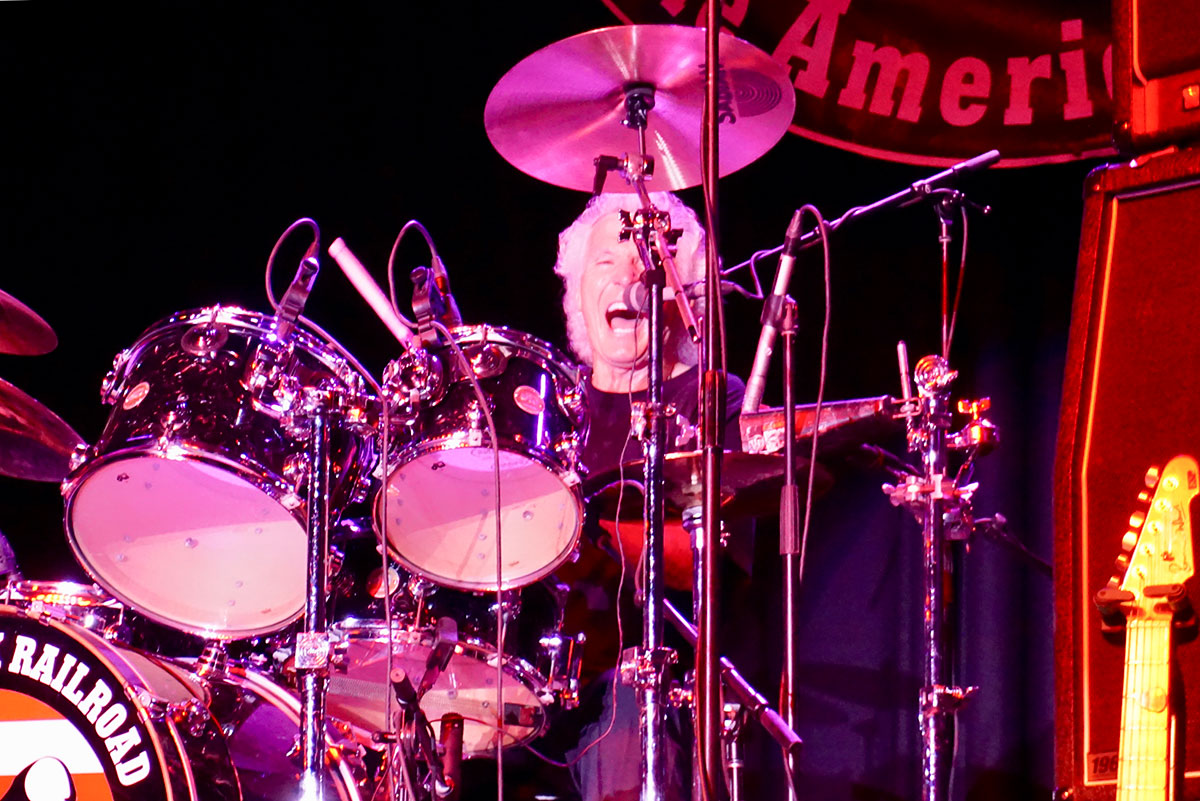 Photo by Glenn Preston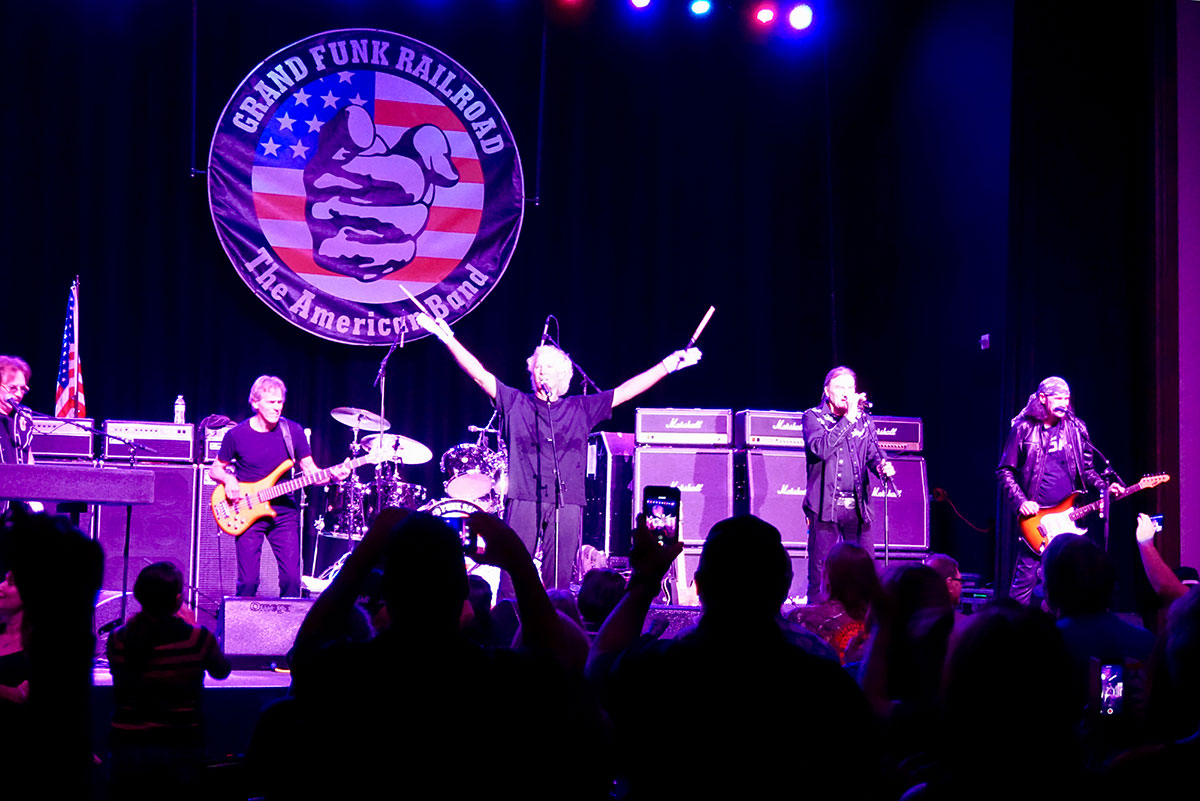 Photo by Glenn Preston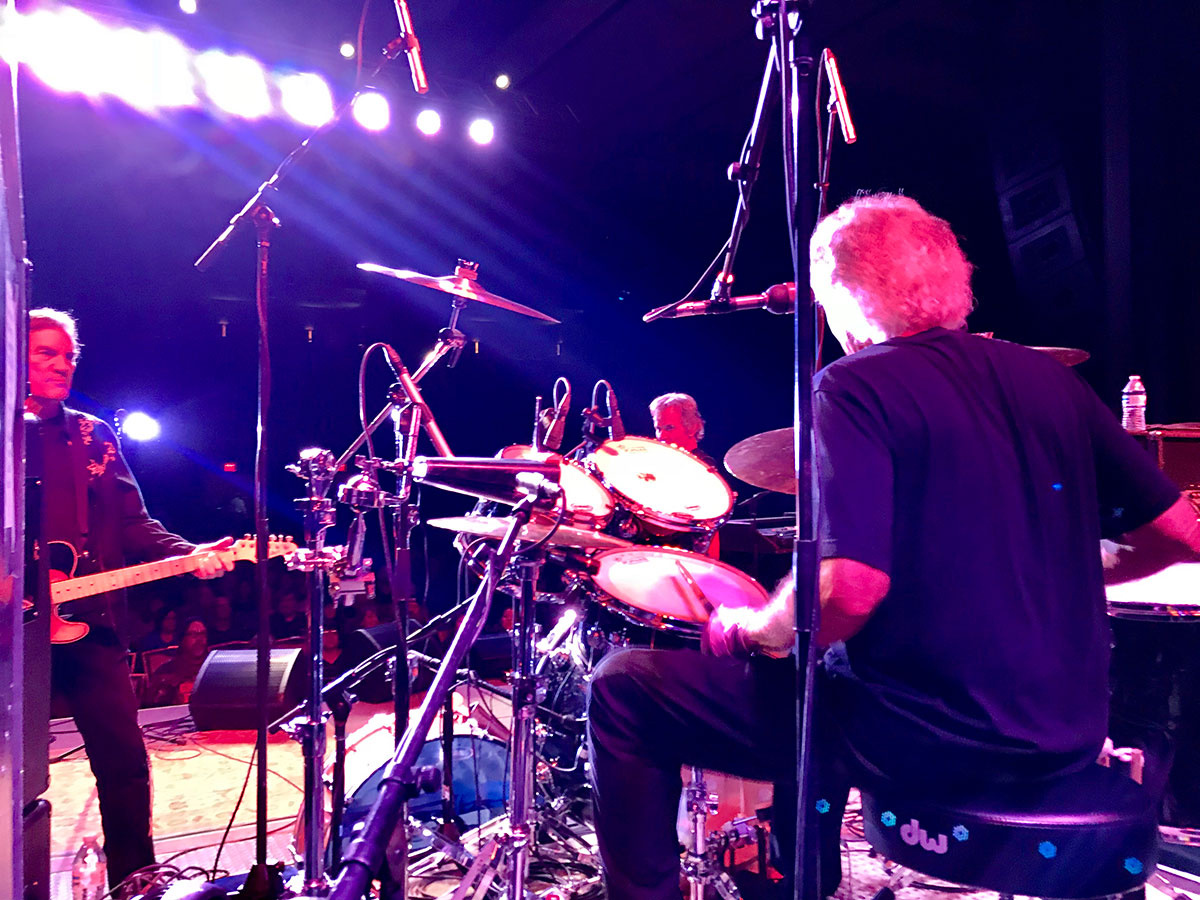 Photo by Don Baker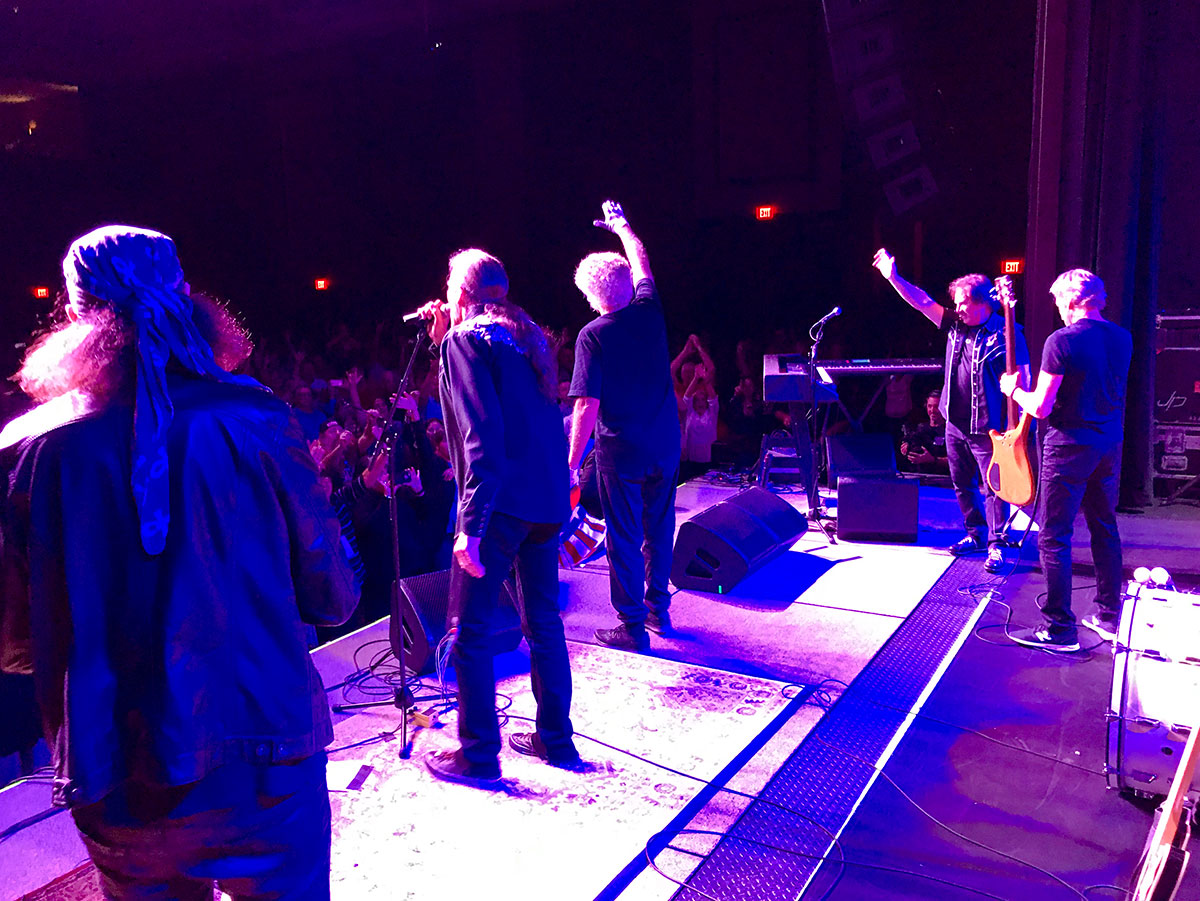 Photo by Don Baker
This is probably the last show for our good friend Stanley Sheldon. Mel will be back touring with us in April. We all owe the renowned bassist Stan Sheldon a very sincere and grateful thank you for helping GFR and Mel get through a very difficult time after the loss of Mel's wife, Dena, to cancer.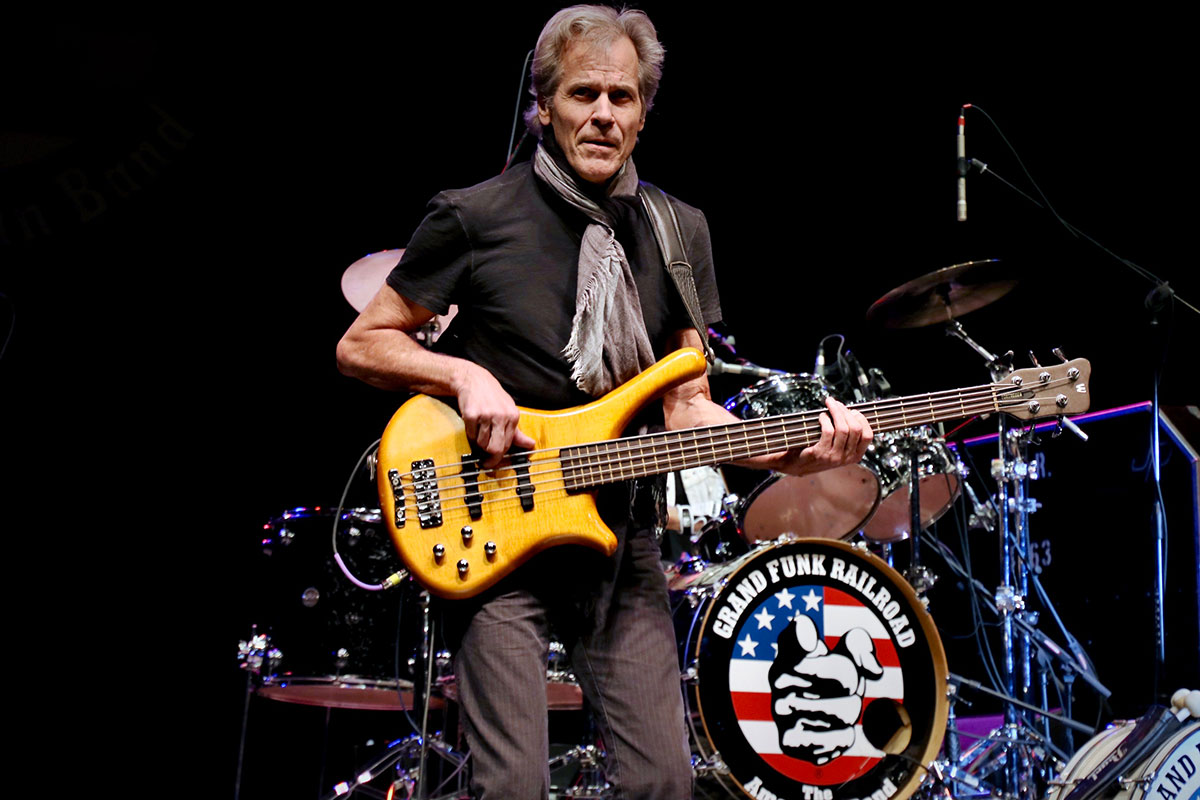 Photo by Ralph Reichenbach
Stan, you are truly one of the GREATS! See you down the track!!
Happy Trails!
03-16-18 Hot Springs, AR
The World's Shortest Saint Patrick's Day Parade!
That's right. Don't blink or you'll miss it. This is the 15th year of this eclectic event in the beautiful town of Hot Springs, about 40 miles west of "Last Night in Little Rock". The first ever Annual Shortest St. Patrick's Day Parade was held in 2004 and made Saint Patrick's Day history. The idea started with an Arkansan of Irish descent sitting in a pub on the world's shortest street in Hot Springs. Since then the crowd has grown each year and now more than 30,000 spectators come from Arkansas, Oklahoma, Texas, and Louisiana to celebrate the "Feast of Saint Patrick".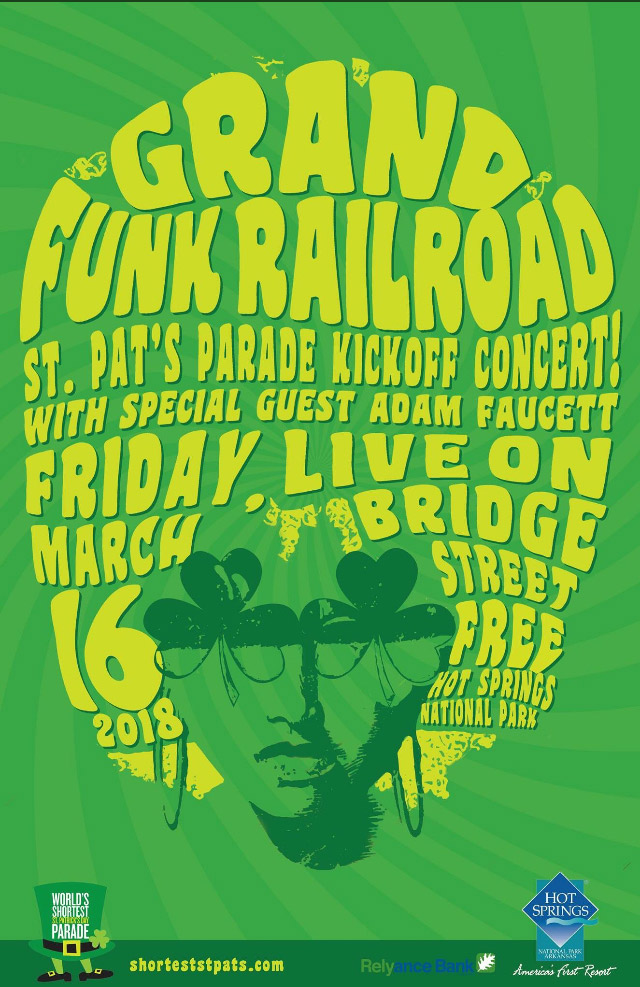 In addition to the parade, the annual Kissing Contest called "Romancing the Stone" will take place at the Arkansas Blarney Stone, which began in 2006. The Stone was reportedly discovered by a leprechaun in the forest around Hot Springs. (There might be some alcohol involved in all these events don't you think?)
Anyway, this year's entertainment is none other than The American Band, Grand Funk Railroad.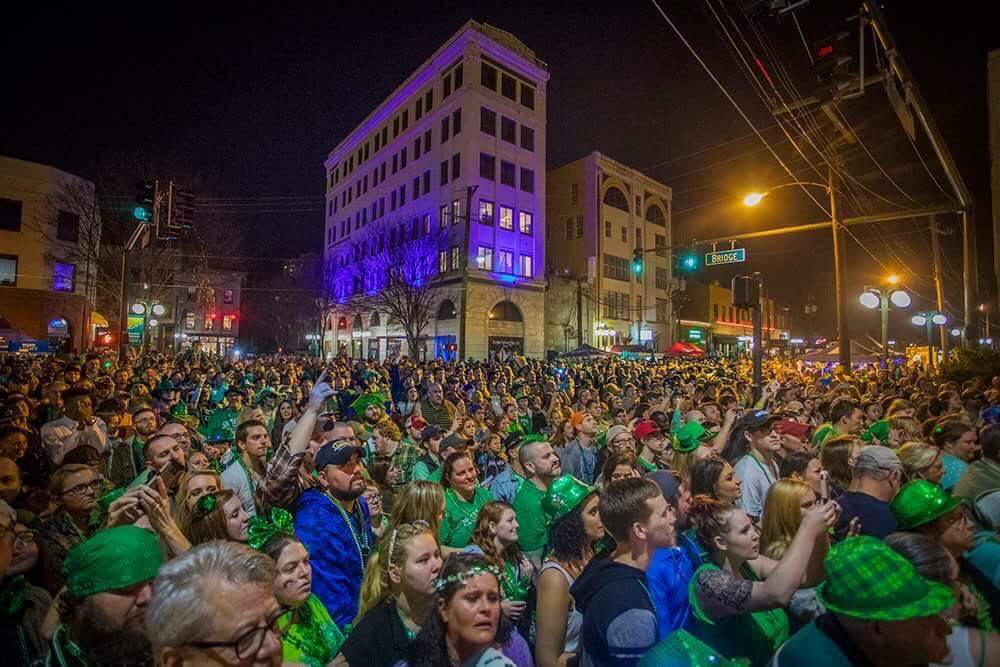 Drawing the largest crowd in the event's 15-year history, GFR lit up the huge crowd of Arkansans and rocked them like never before. The 2018 lineup also featured The Dallas Cowboys Cheerleaders, The Budweiser Clydesdales and "Funk Masters" Morris Day & The Time.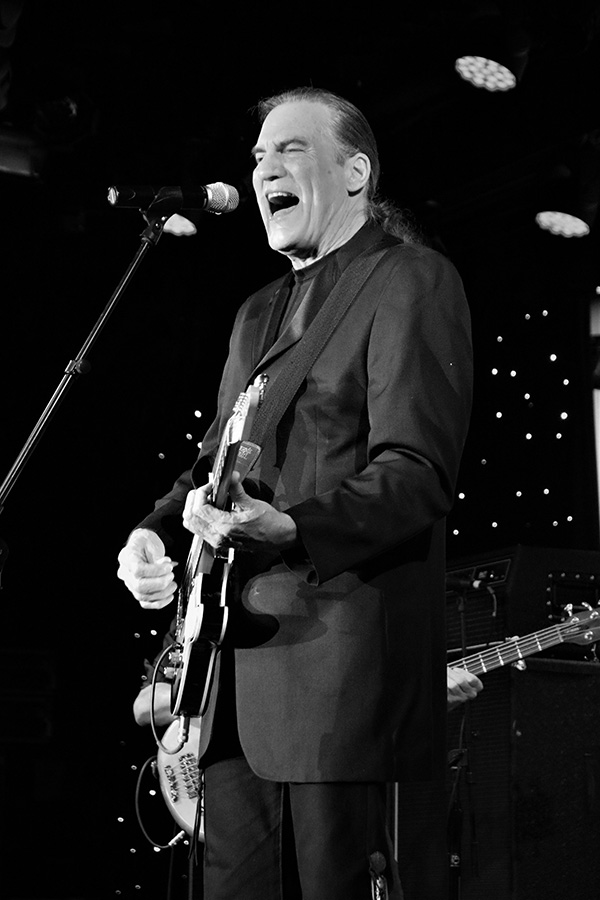 Photo by Ralph Reichenbach
Photo by Don Baker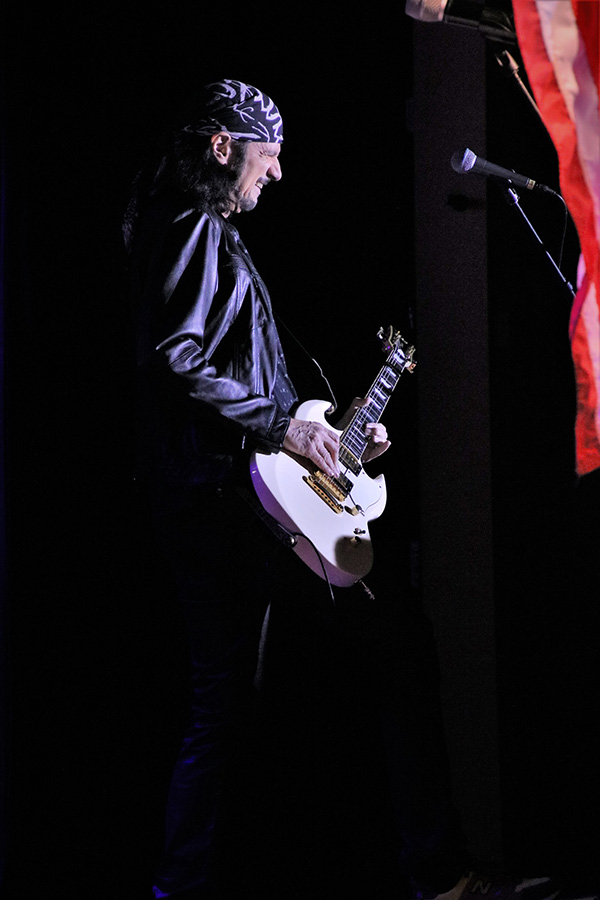 Photo by Ralph Reichenbach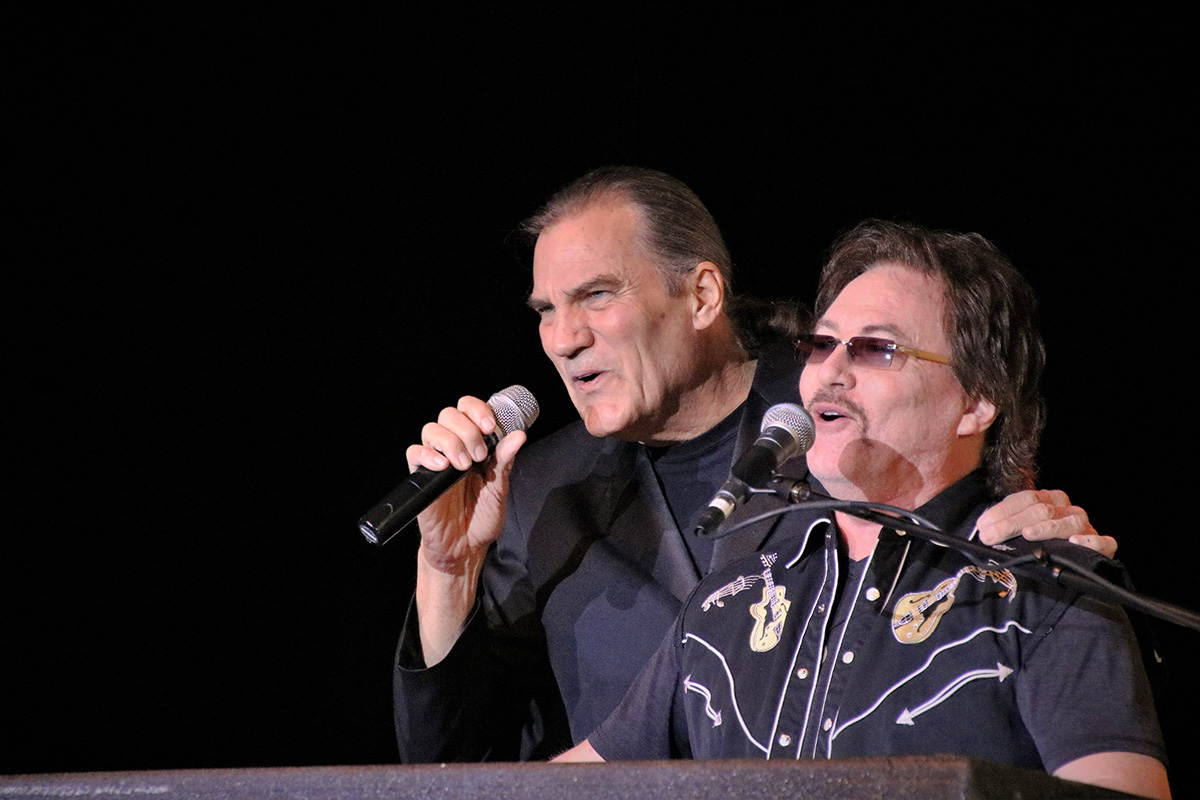 Photo by Ralph Reichenbach
What a GRAND event!
03-09-18 Las Vegas, NV
SOLD OUT!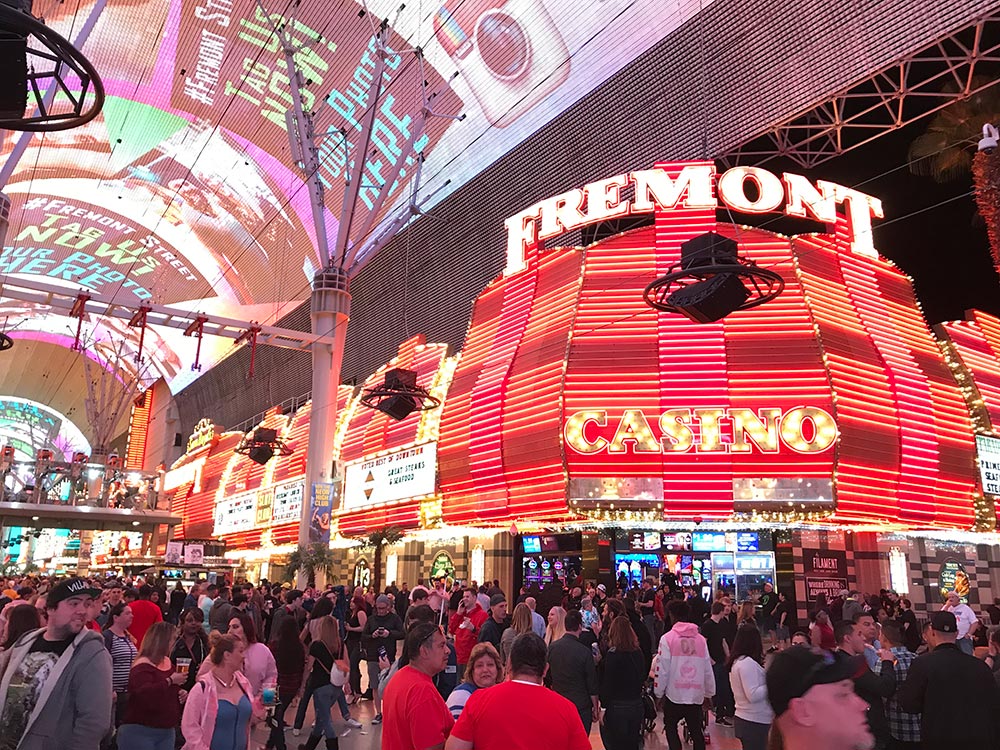 Photo by DB
Grand Funk had a cross country excursion this week for a repeat performance at the world renowned Golden Nugget Casino in the heart of Las Vegas on the incredible Fremont Street. The Golden Nugget is one of the oldest casinos in Vegas, built in 1946. The lobby features the largest gold nugget in the world known as the "Hand of Faith" that weighs in at 875 Troy ounces. Another extraordinary feature of this casino is that it is built around two huge functioning aquariums, one containing live sharks.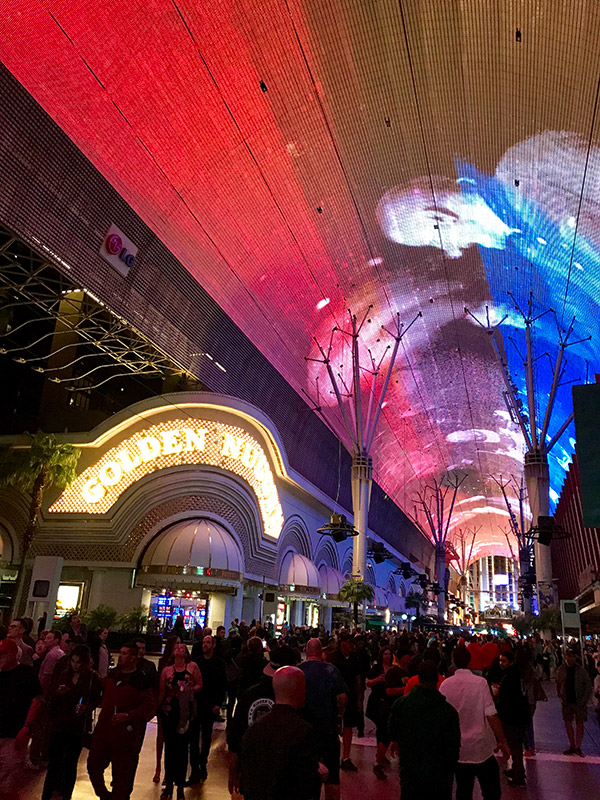 Photo by DB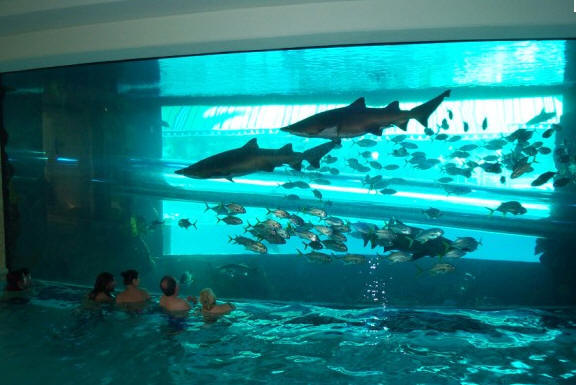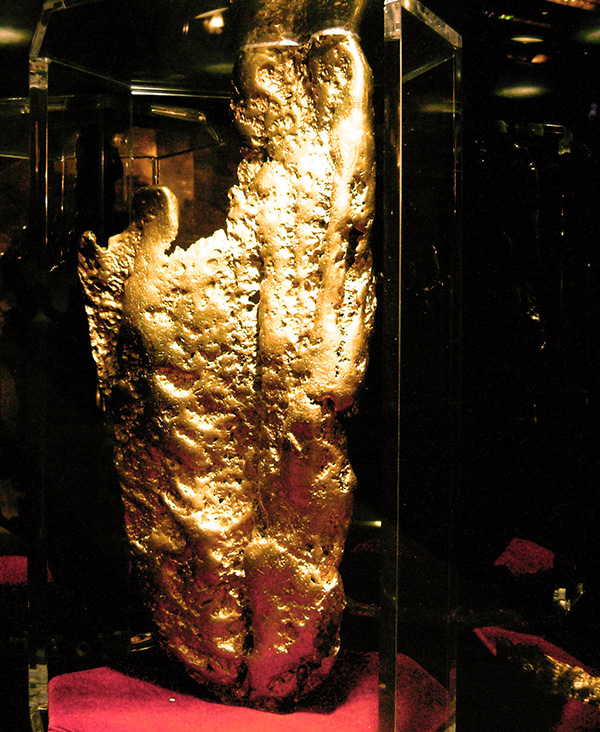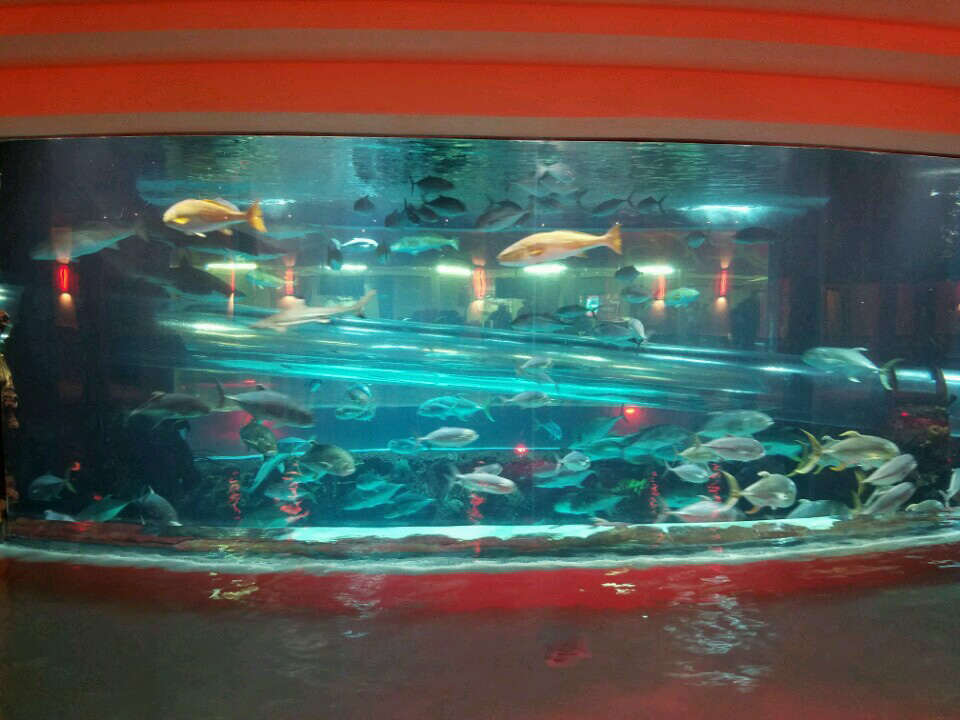 The entertainment showroom has a history all it's own with Frank Sinatra having played here many times, and the Green Room for the artists was decorated for Sinatra. It is preserved in its original state today.
Grand Funk's performance here was the Golden Nugget's third sold out show in five years. People from all over the USA and even the world filled the standing-room only showroom to watch another amazing show by The American Band.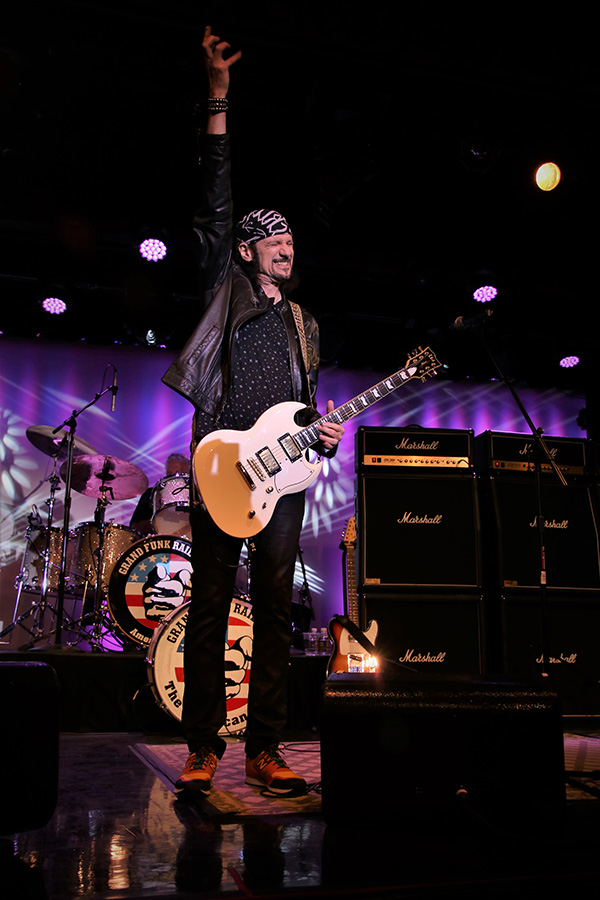 Photo by Ralph Reichenbach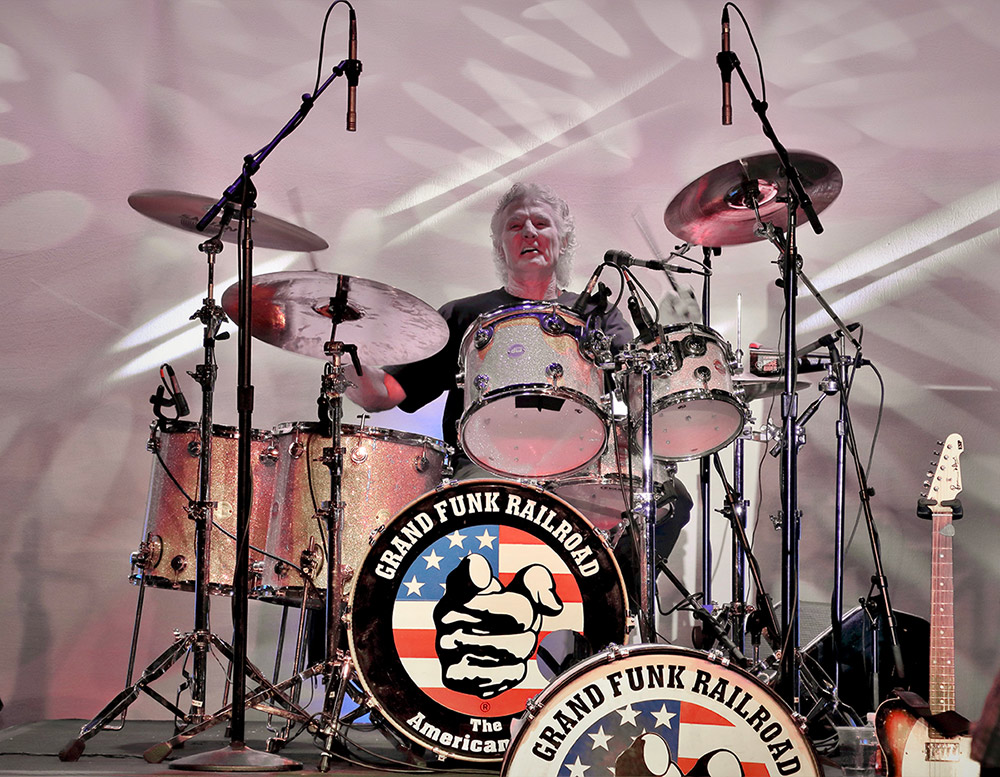 Photo by Ralph Reichenbach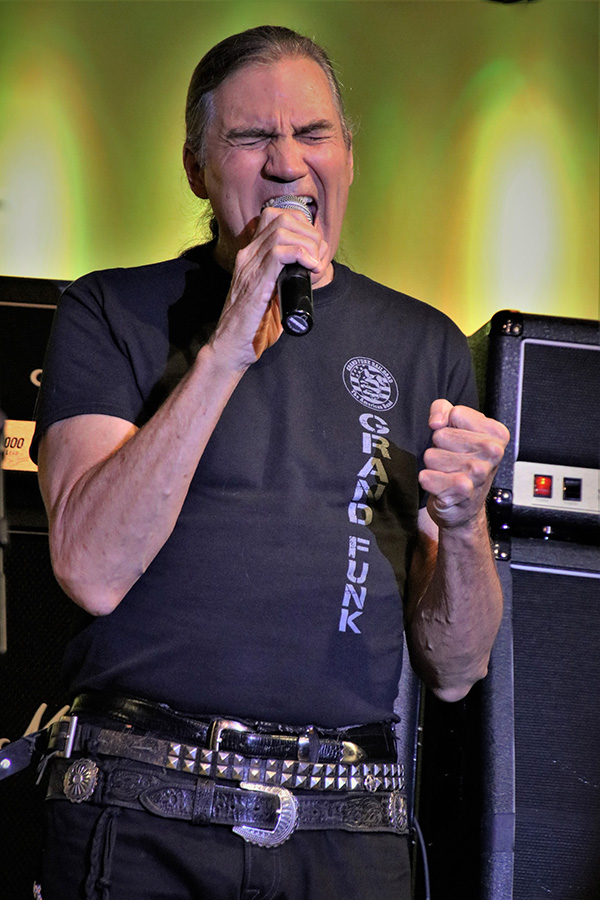 Photo by Ralph Reichenbach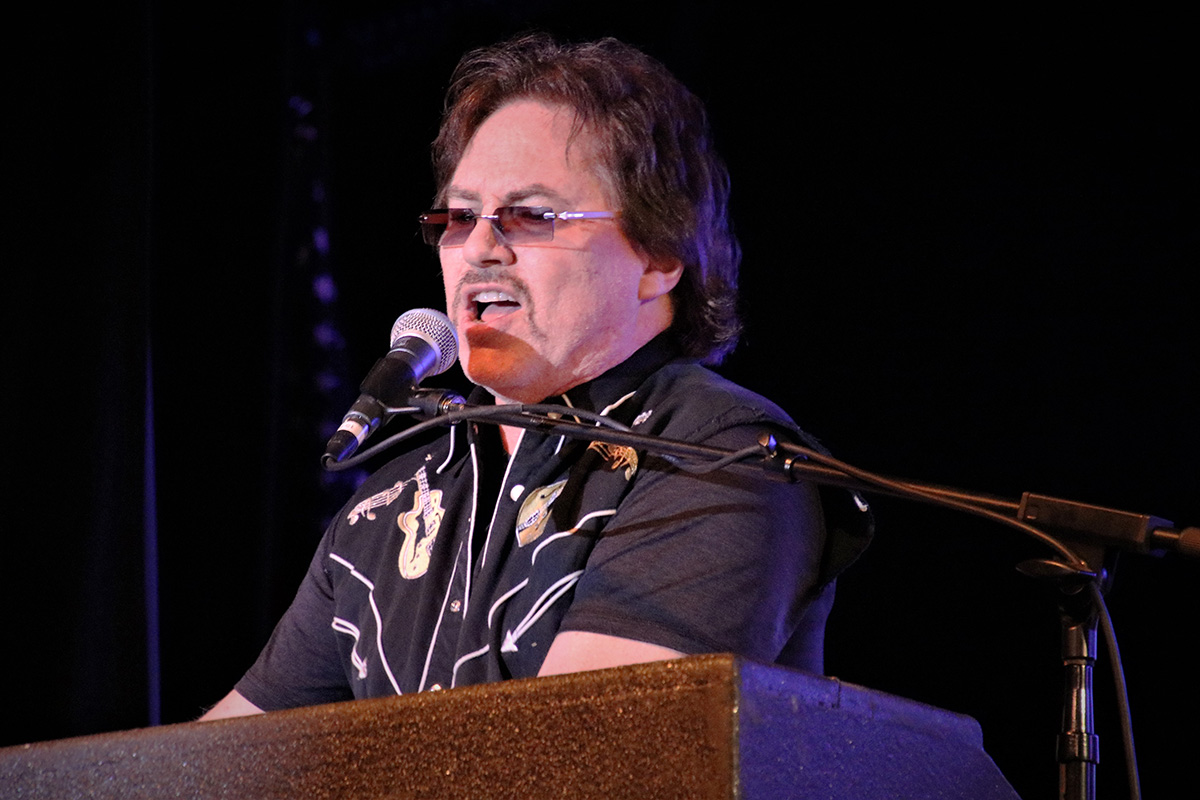 Photo by Ralph Reichenbach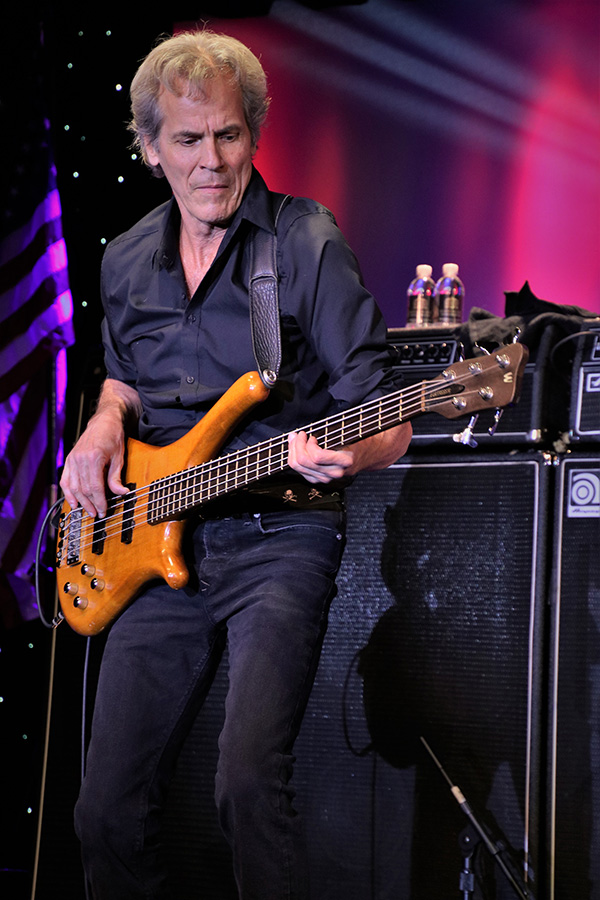 Photo by Ralph Reichenbach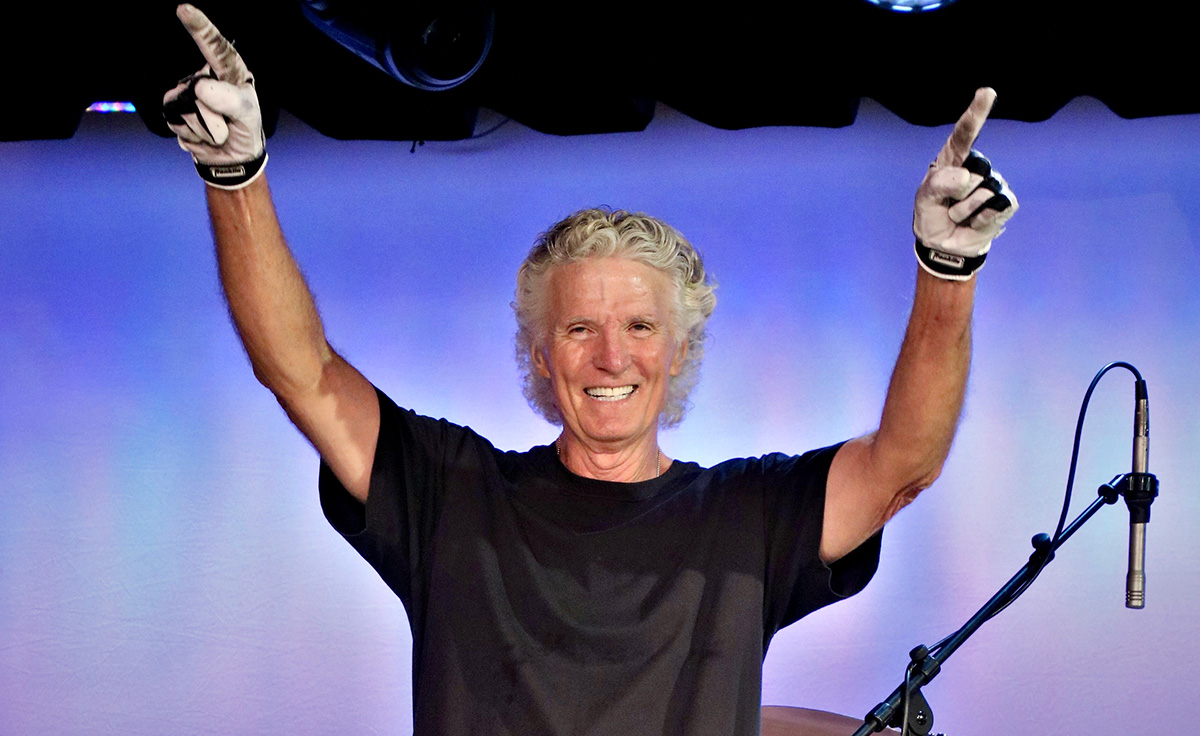 Photo by Ralph Reichenbach
What a trip. Atlantic City 2/24, Aruba and Curacao 2/28 & 3/1, and Las Vegas 3/9. All Sold Out Shows.
It's been a great two weeks for Grand Funk Railroad. Keep 'em comin'!
02-28-18 Aruba and 03-01-18 Curacao
Flower Power Cruise 2018 SOLD OUT
PEACE LOVE AND MUSIC
The American Band carried the American Flag to Aruba and Curacao to climb aboard the Celebrity Summit Cruise Ship and the 2018 Flower Power Cruise. This year's line-up included, of course, Grand Funk Railroad...along with Herman's Hermits, The Hollies, Grass Roots, Guess Who, The Association, The Family Stone, Felix Cavaliere's Rascals, Iron Butterfly, The Buckingham's, Mitch Ryder, Mickey Dolenz (The Monkees), and Mark Lindsey (Paul Revere and the Raiders). The cruise Master of Ceremonies was none other than Peter Asher from "Peter and Gordon". For those who may not know, Peter Asher was the producer of many multi-million selling albums by Linda Ronstadt and James Taylor and also was once the President of Sony Music.
Sailing from Fort Lauderdale, Florida on February 24, the music, the memories and the spirit of the "Love Generation" came together for the seven day cruise.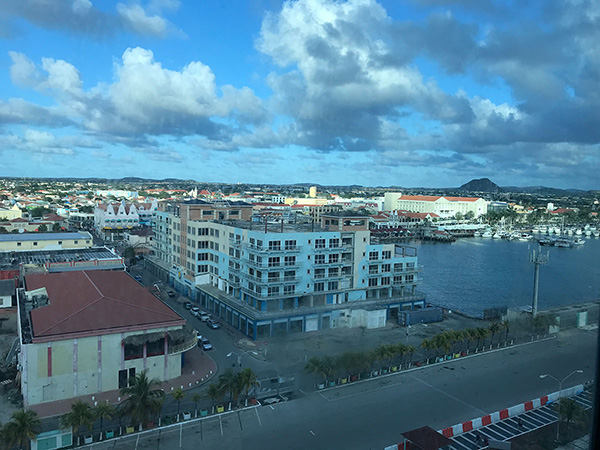 Photo by DB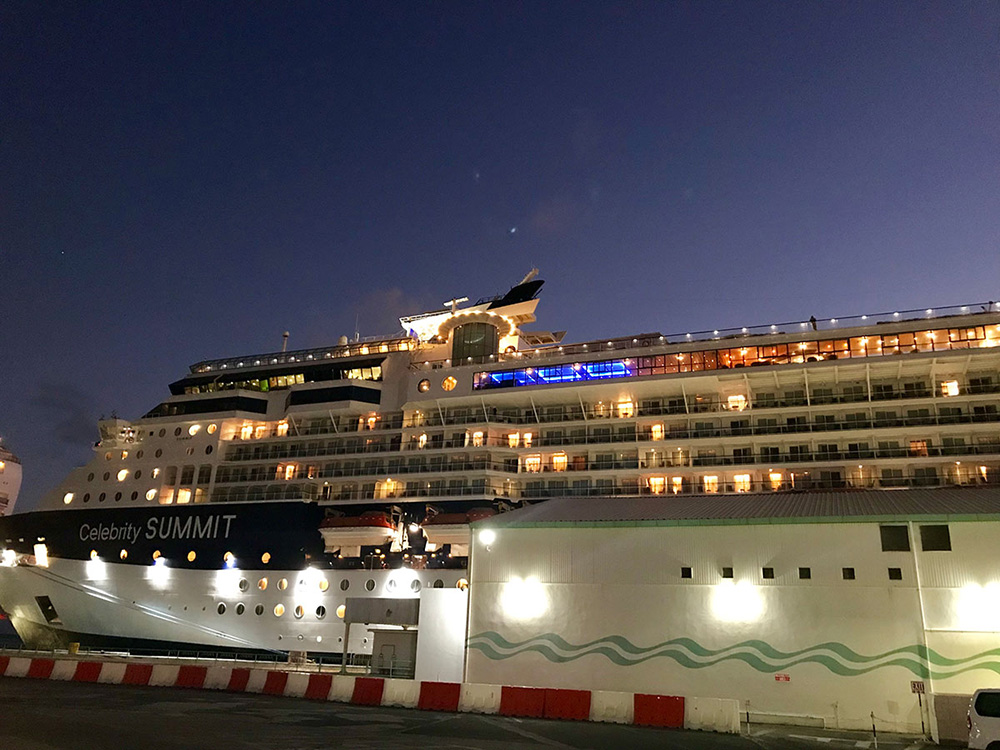 Photo by DB
Grand Funk joined the cruise midway flying to Aruba to board the ship, and played their first show in the standing-room only on-ship Celebrity Theater. GFR took the stage and owned it, playing all of Grand Funk's greatest hits with power unmatched by any of the other '60s acts on board. Grand Funk Railroad quickly became the most talked about band of the entire cruise.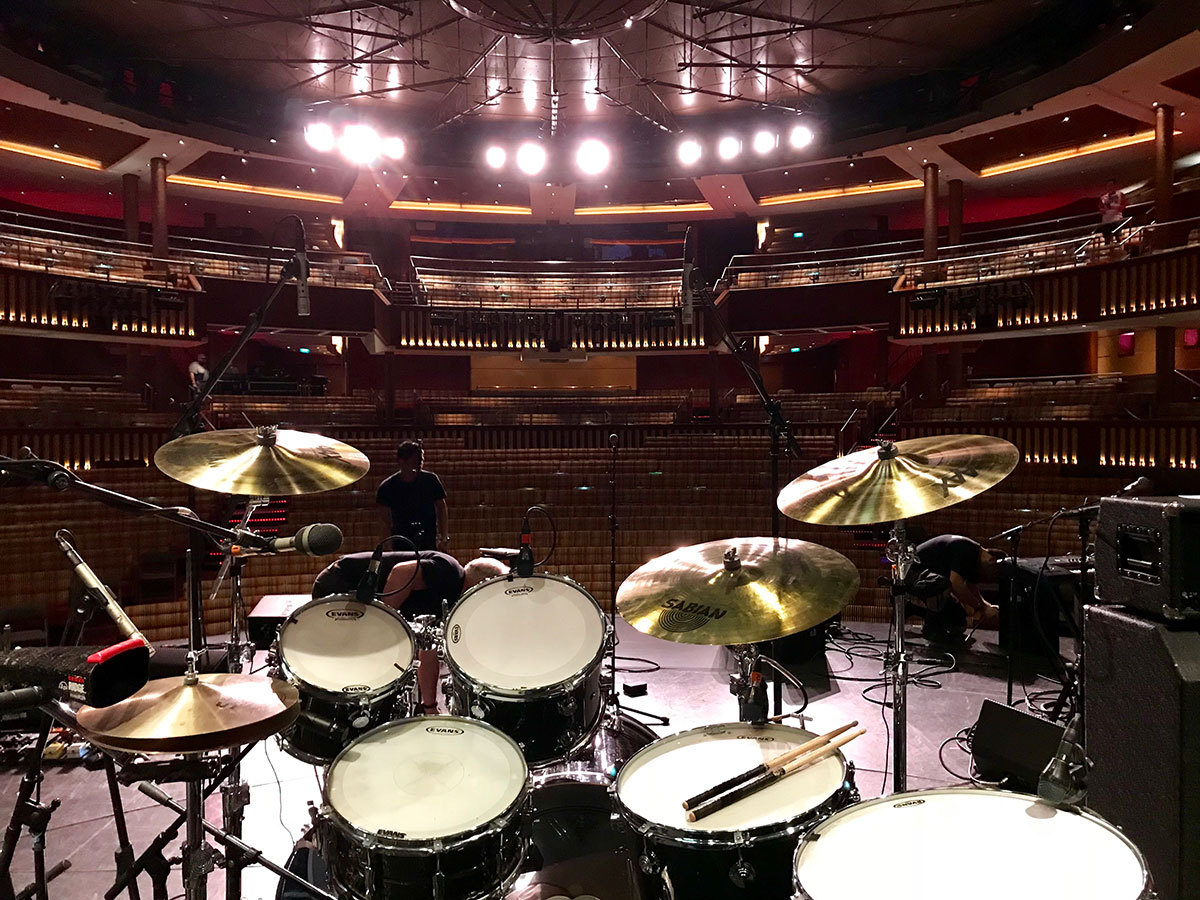 Photo by DB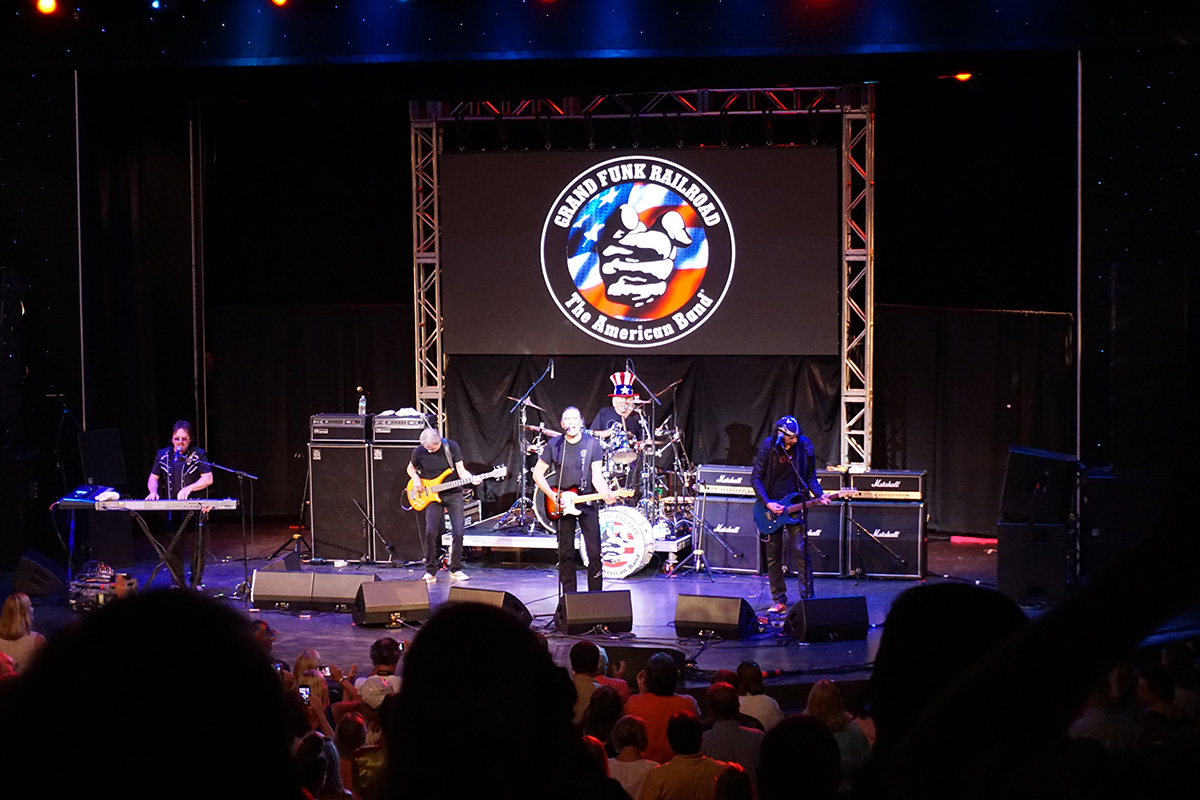 Photo by Glenn Preston
Playing a second show the next night to yet again a packed house in the Celebrity Theater, Grand Funk had the ship Rockin' At Sea! From that point on for the rest of the cruise the guys were constantly stopped for autographs and photos.
This was Grand Funk's second cruise experience, having played "The Legends of Rock" Cruise in 2015 with Greg Allman and Peter Frampton. It was a tremendous success and Time Life, the company that promotes the Flower Power Cruise, has already asked GFR to perform on their 2019 "Rockin' Romance" Cruise.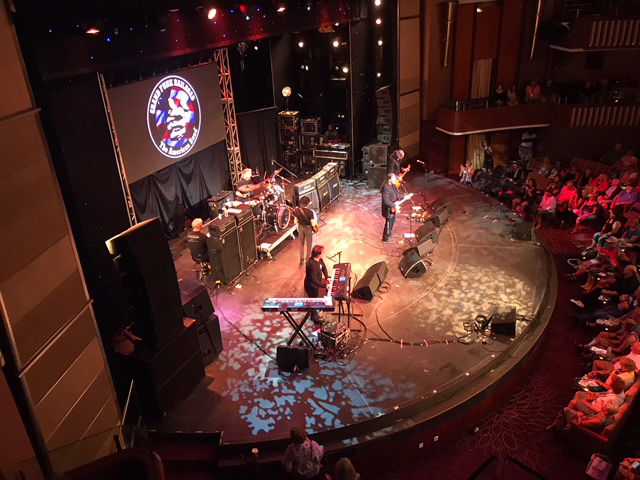 Photo by Don Baker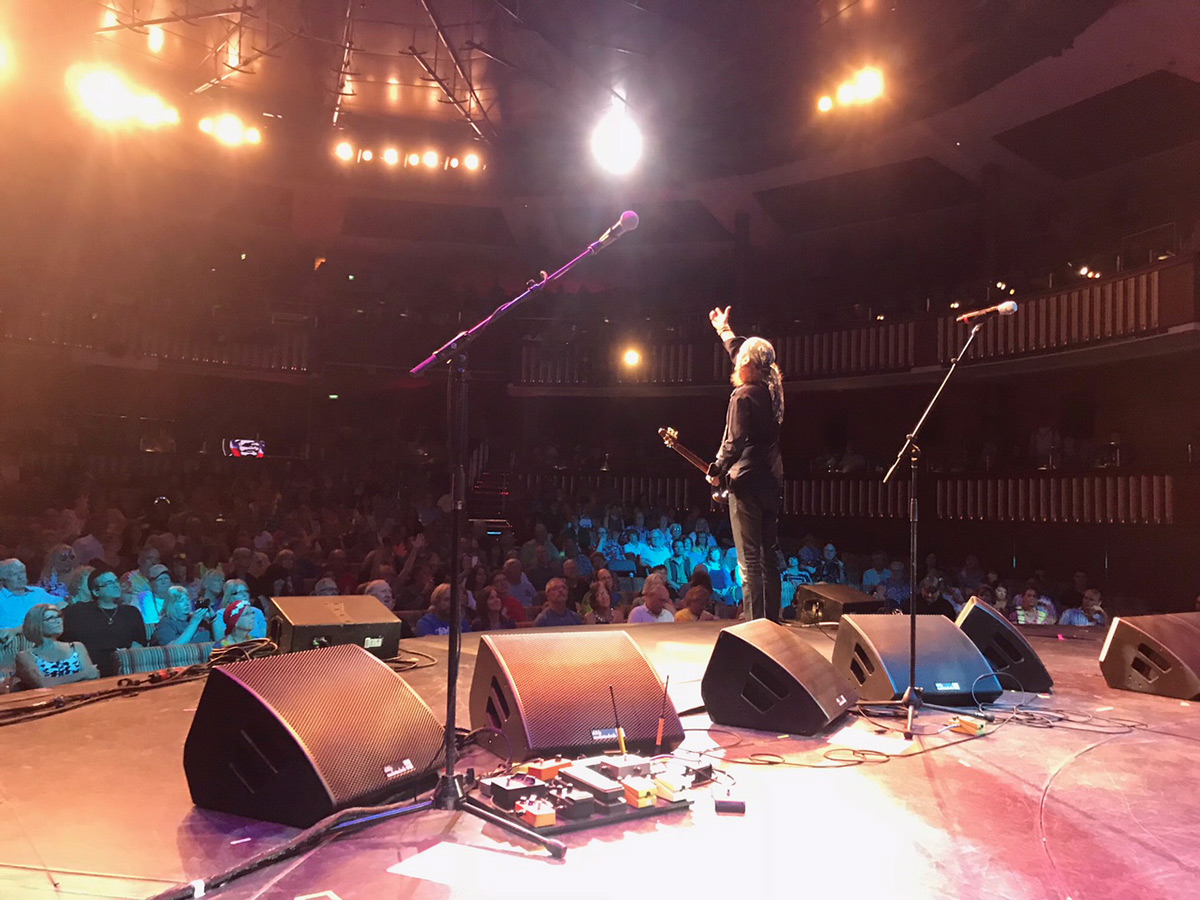 Photo by Don Baker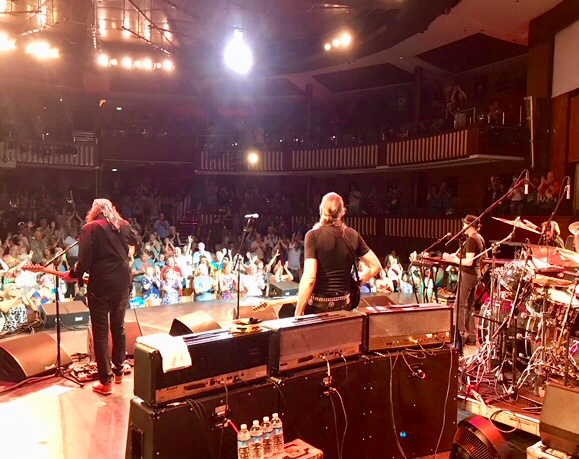 Photo by Don Baker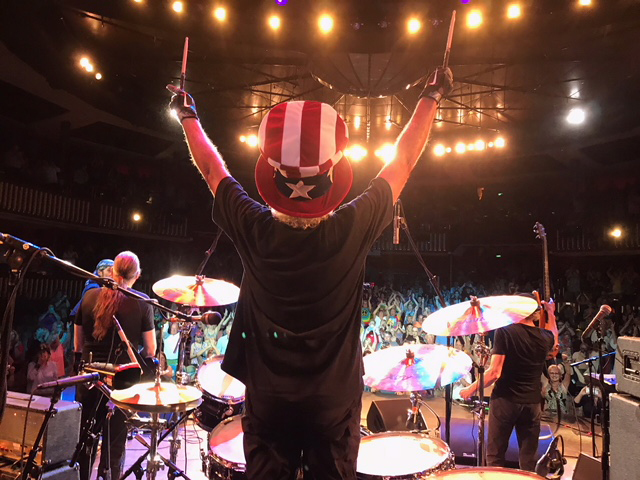 Photo by Don Baker
This was a "Some Kinda Wonderful" experience and Grand Funk would love to see you all at a show or cruise to somewhere!
Got some great pics to share! More cruise photos coming soon!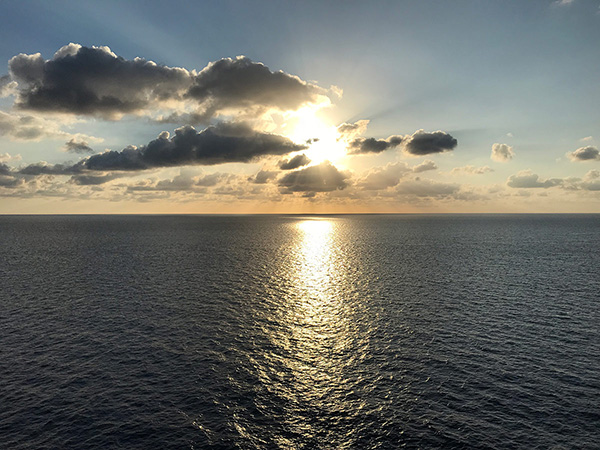 02-24-18 Atlantic City, NJ
Another return engagement, another SOLD OUT SHOW!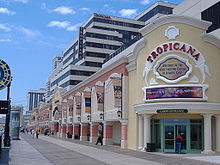 The American Band rolled into The Tropicana in Atlantic City for the third time in the past three years and once again packed the house! 2018 is looking to be another record year for Grand Funk and the audience is growing.
With bass icon Stanley Sheldon filling in temporarily for Mel Schacher, the band is really starting to hit a new level of comfort and the show keeps getting hotter. The Tropicana is a great venue with a huge stage, state of the art lights and sound, acoustics perfect for a rock show, and seating that gives everyone the "best seat in the house".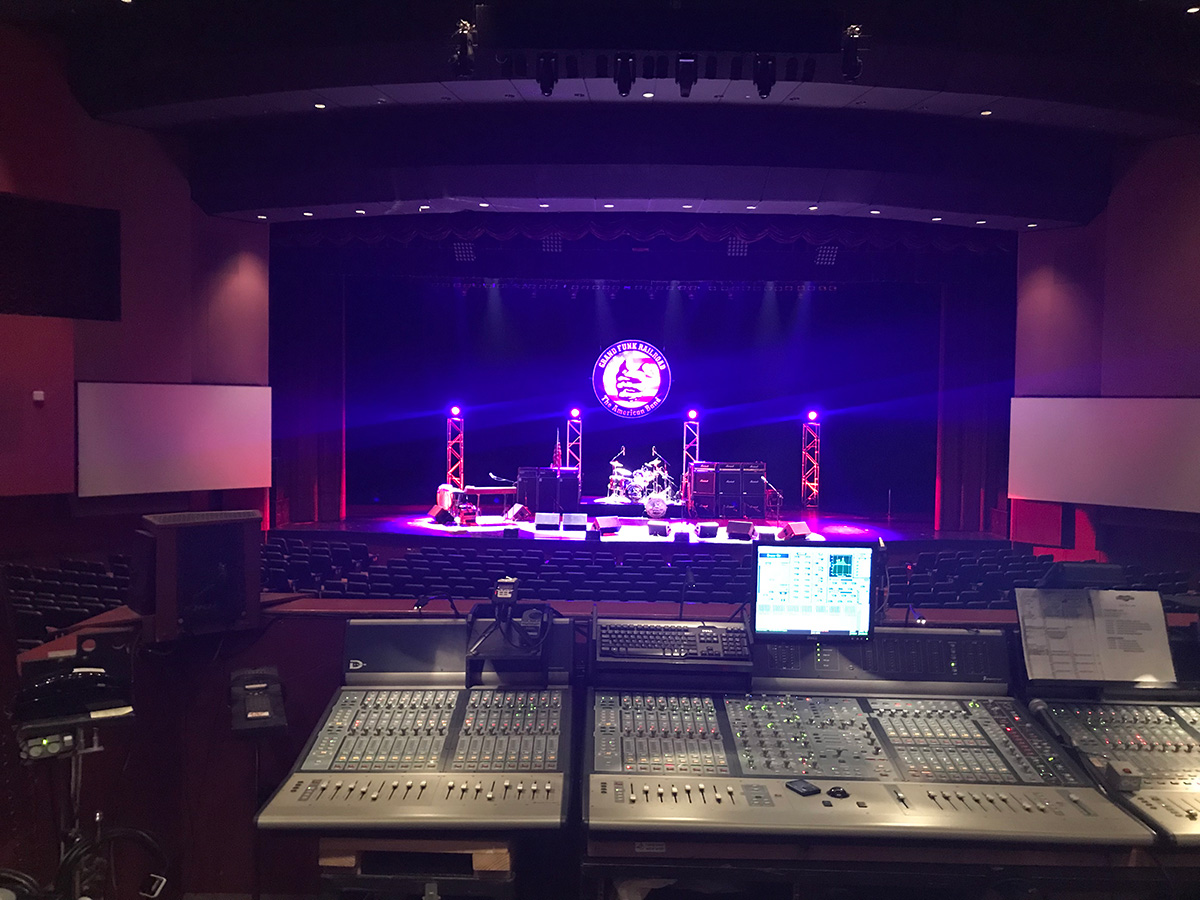 Photo by DB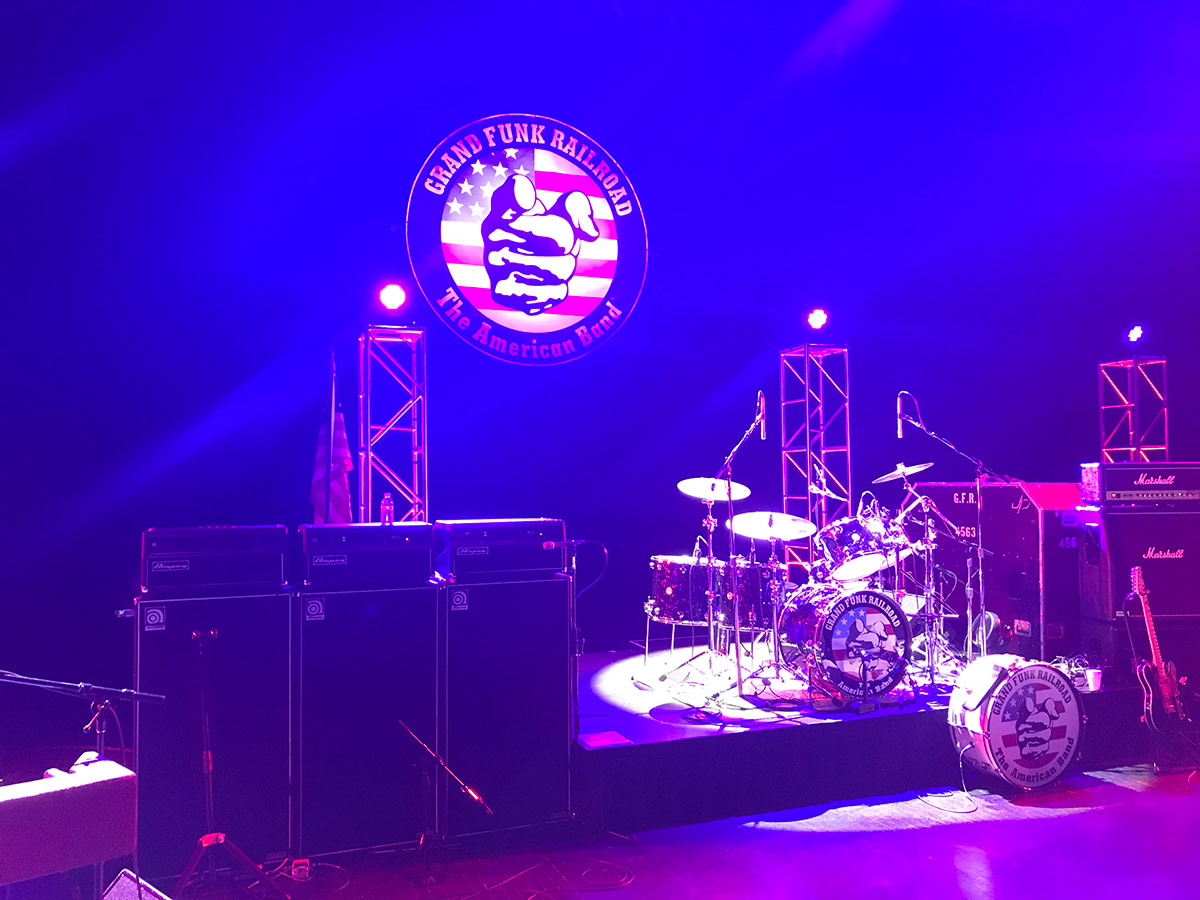 Photo by DB
Grand Funk cranked it up and took over Saturday night. The crowd of East Coast folks were on their feet from "Locomotion" to "American Band".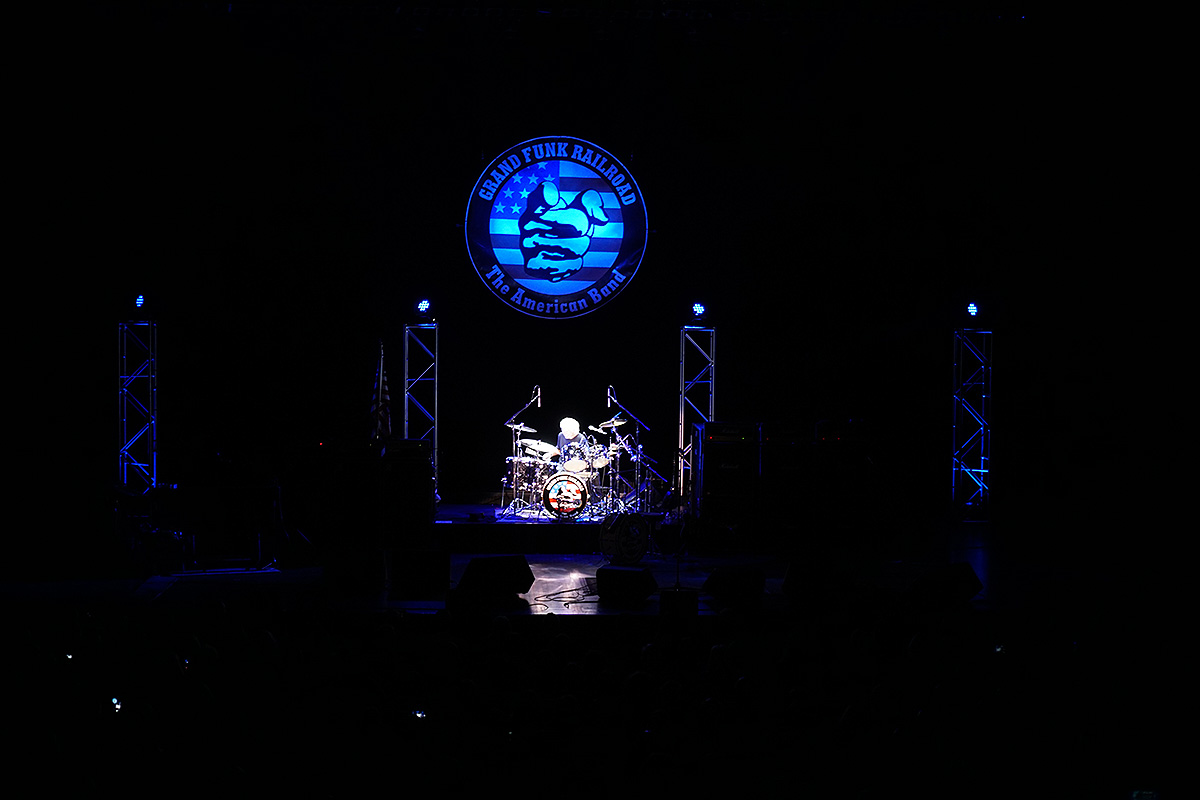 Photo by Glenn Preston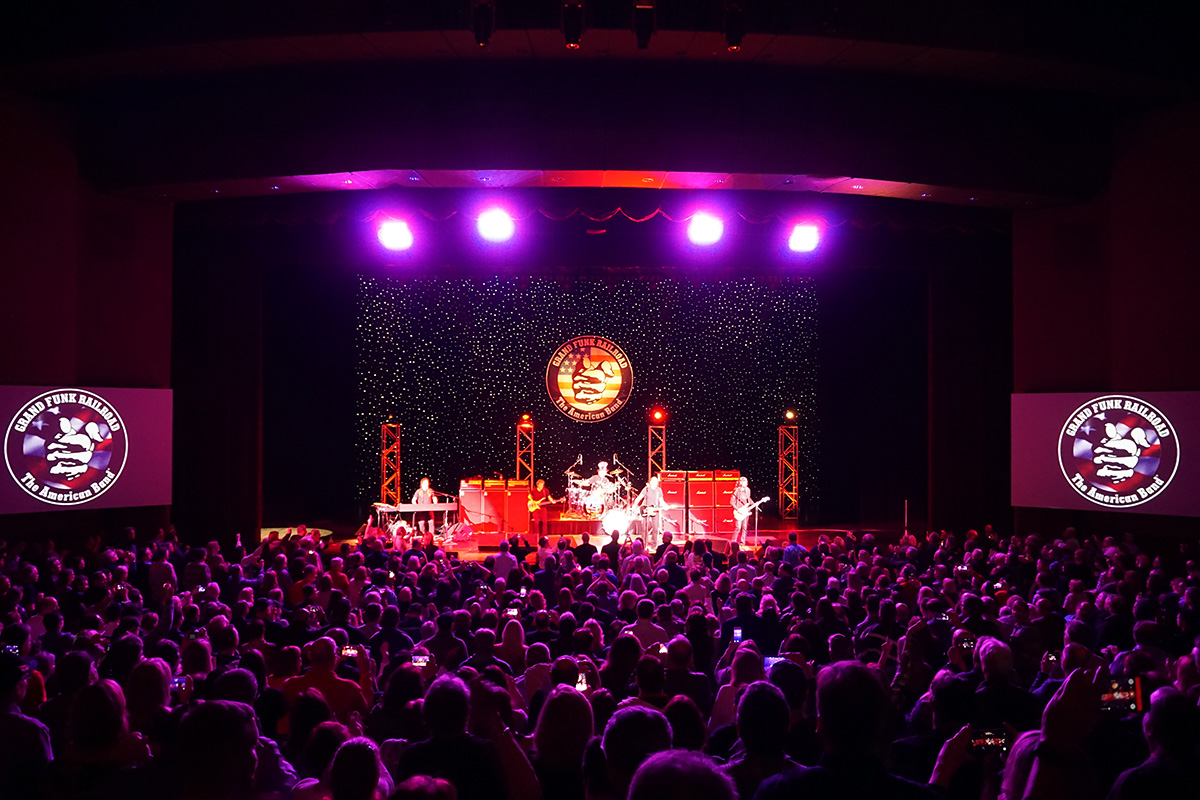 Photo by Glenn Preston
Hope to do this again next year. Atlantic City ROCKS!
02-17-18 Mt. Pocono, PA
SOLD OUT!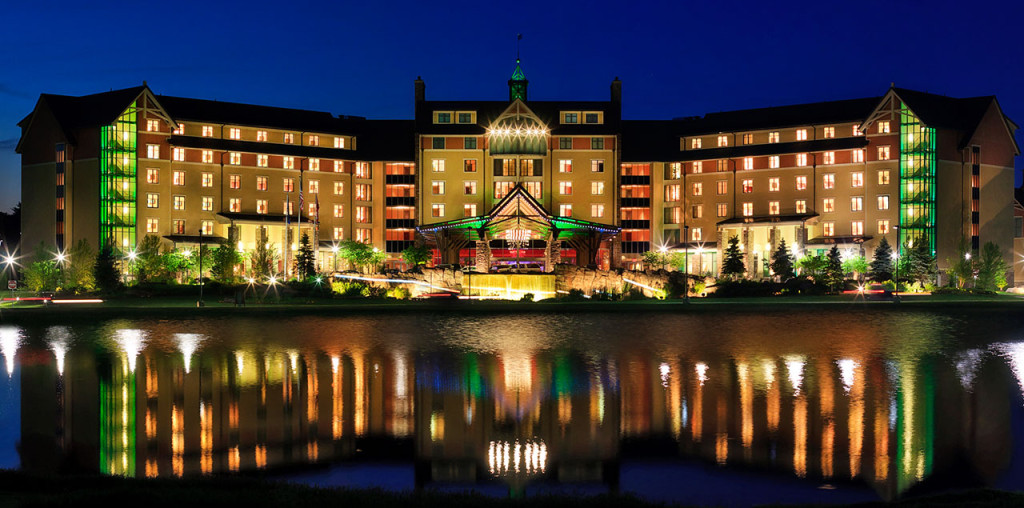 Grand Funk took a trip to the Poconos this week for their third visit to the beautiful Mt. Airy Casino Resort. This incredible resort in the Pocono Mountains overlooks the Delaware River. The wooded hills and valleys have long been a popular recreation area within a two-hour drive to millions of metro area folks from New York, New Jersey and Pennsylvania.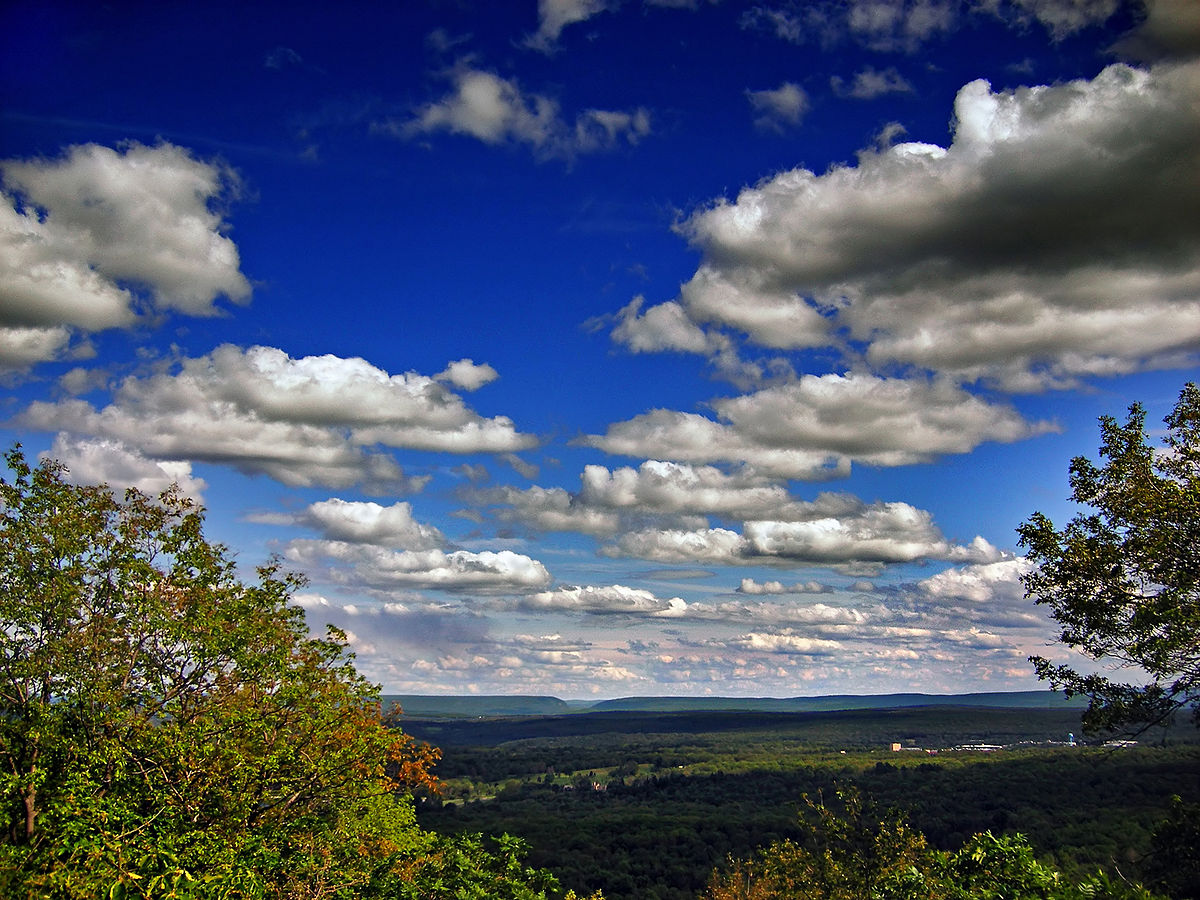 GFR played a great show to the Sold Out crowd in this very intimate showroom. Rockin' hard from the start, the East Coast crowd was on their feet and lovin' a high energy show. Having played this venue both inside and outside, Grand Funk has become a "talked about" concert experience at Mt. Airy. The audience continues to grow, and people bring friends and families to share the GFR experience. With multiple generations singing along to "We're An American Band", "Some Kinda Wonderful", "The Locomotion" and "Closer To Home", Grand Funk Railroad ROCKS ON!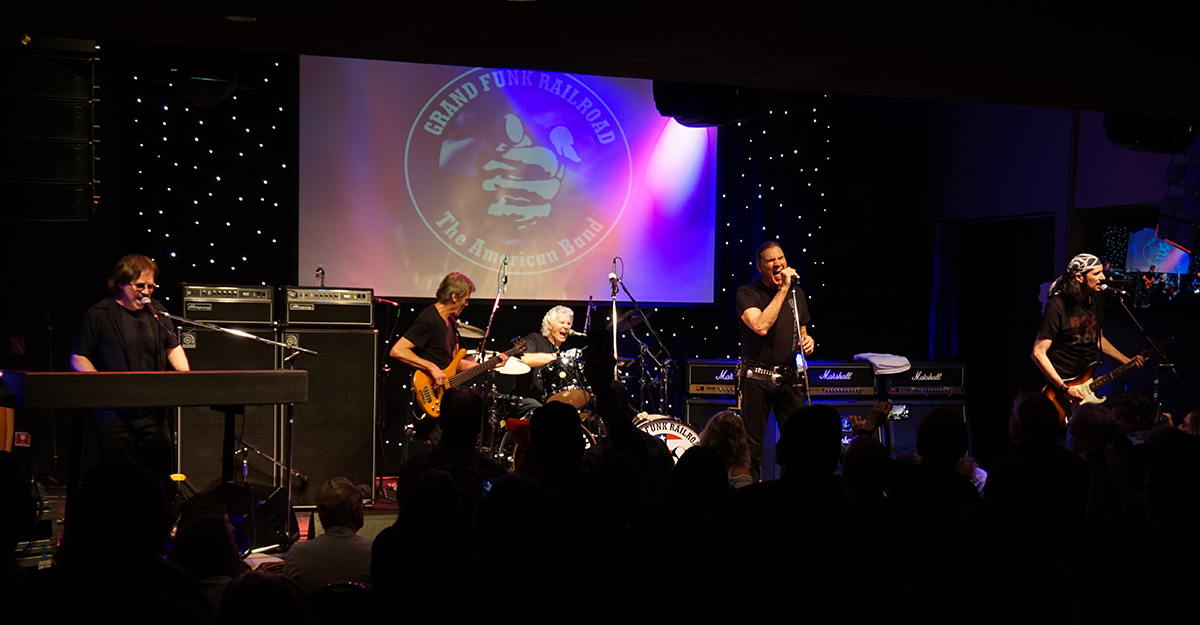 Photo by Don Baker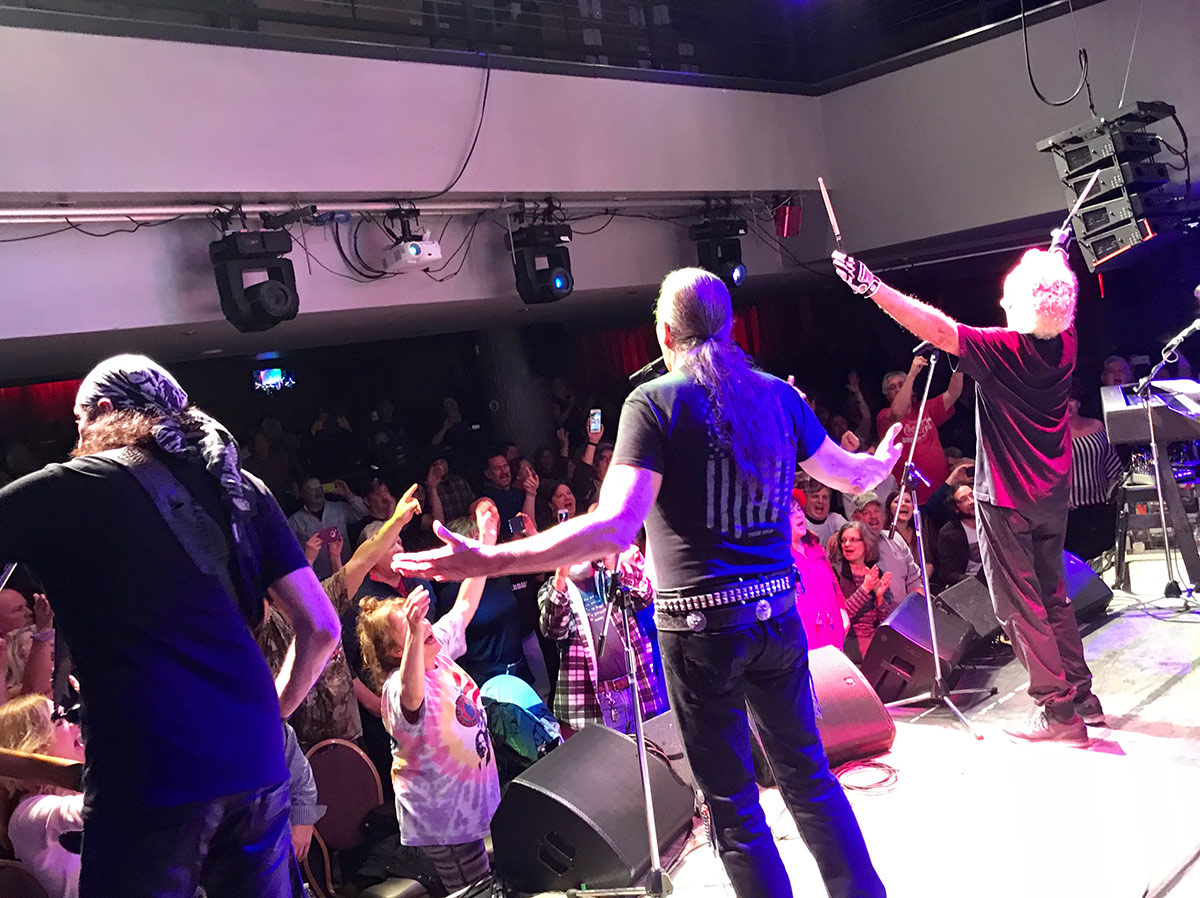 Photo by Don Baker
02-01-18 Waterloo, NY
SOLD OUT!
WOW!  Another Sold Out show for Grand Funk Railroad in 2018.
Traveling to Syracuse, NY, for a great show at the Del Lago Casino Resort in Waterloo, GFR got in and out between two cold and snowy days with temperatures in the low teens. Luckily day of show was pleasant with a winter heat wave of 45.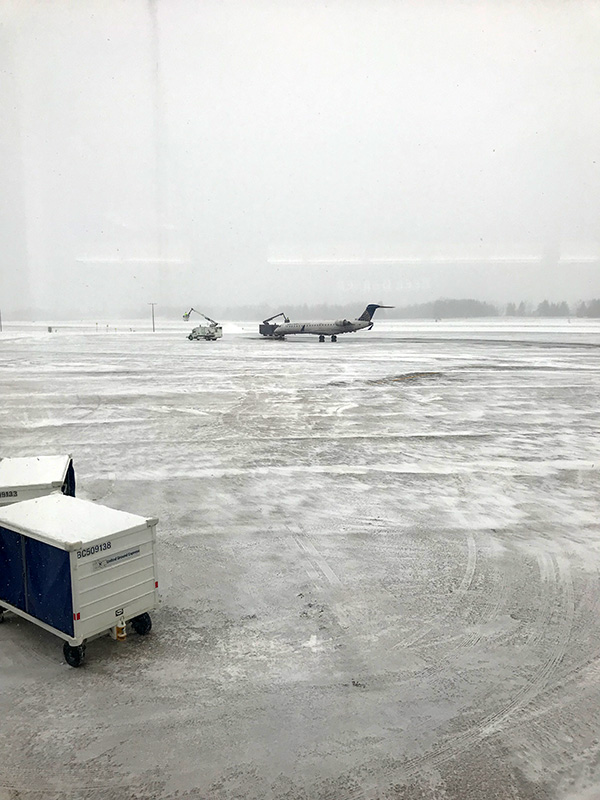 Photo by DB
The Del Lago is only one year old and today was it's first birthday. Celebrating with a Rock & Roll show with Grand Funk Railroad, the incredible "Vine Theater" at the Del Lago was full to capacity. Grand Funk got the crowd of upstate New Yorkers on their feet and dancing as soon as they hit "Locomotion". From there it was an amazing evening of Grand Funk classic rock.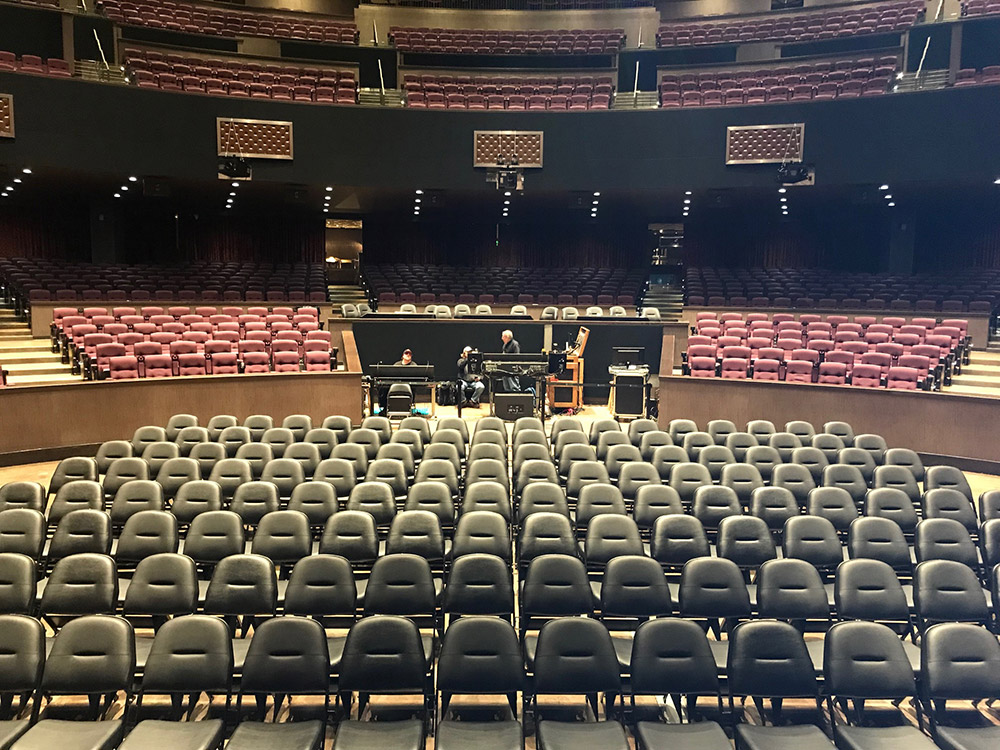 Photo by Don Baker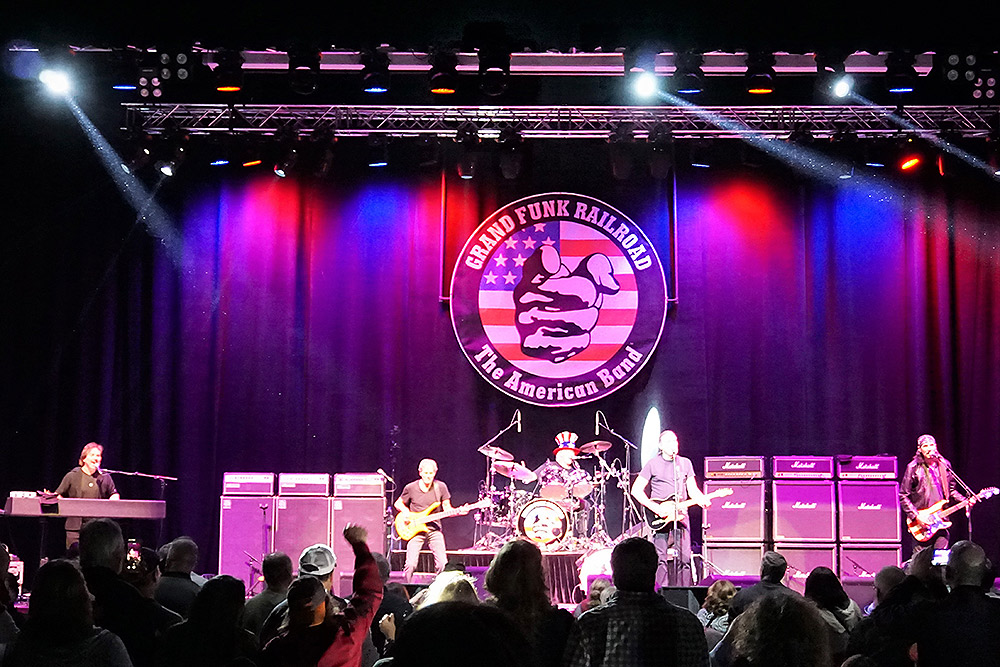 Photo by Glenn Preston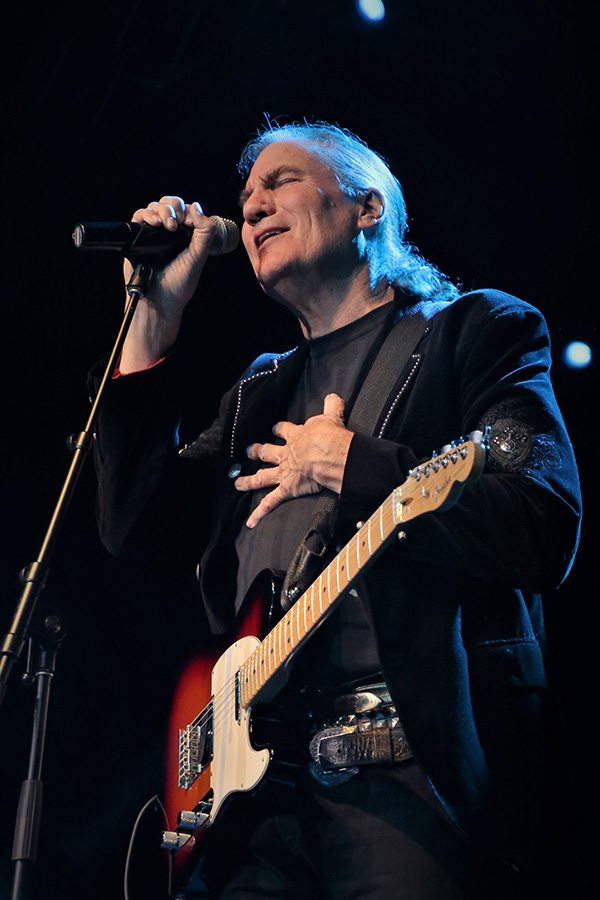 Photo by Ralph Reichenbach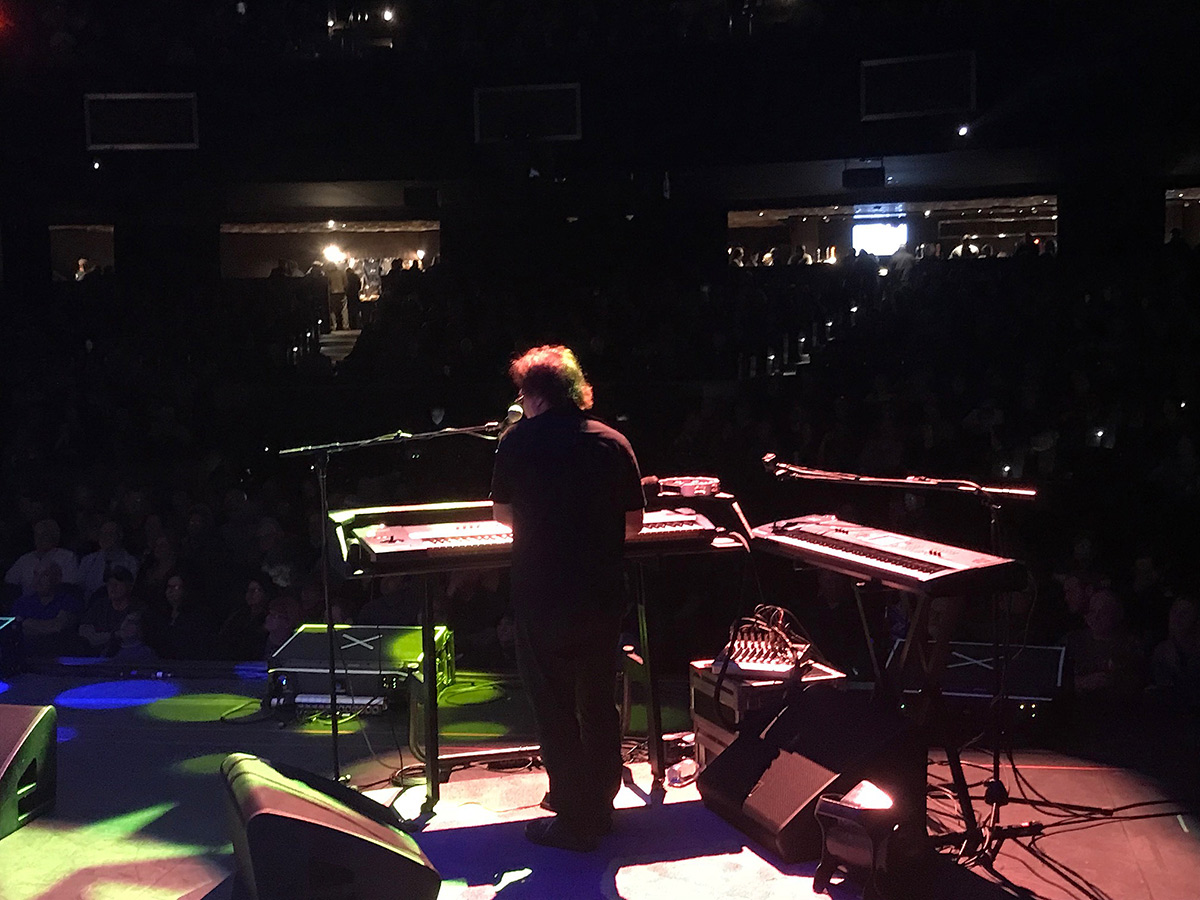 Photo by Don Baker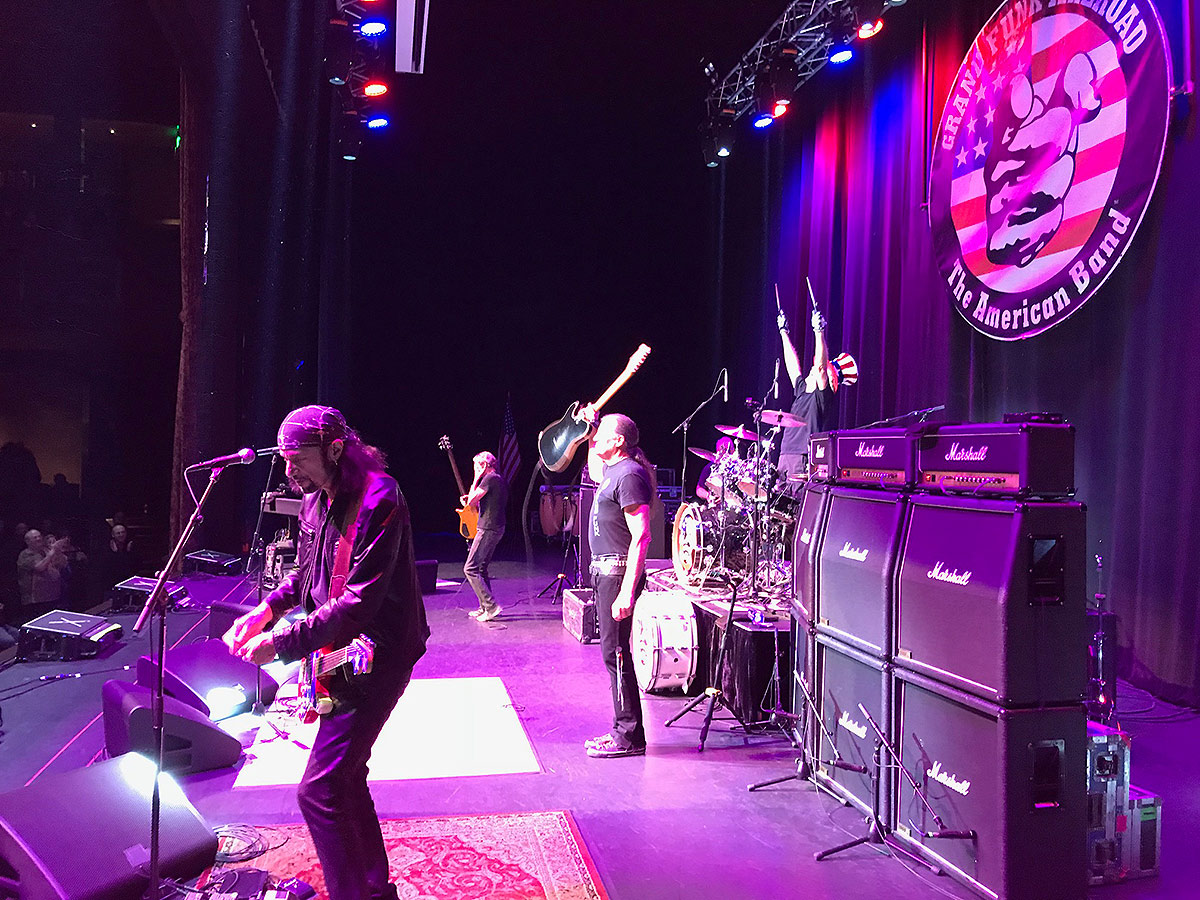 Photo by Don Baker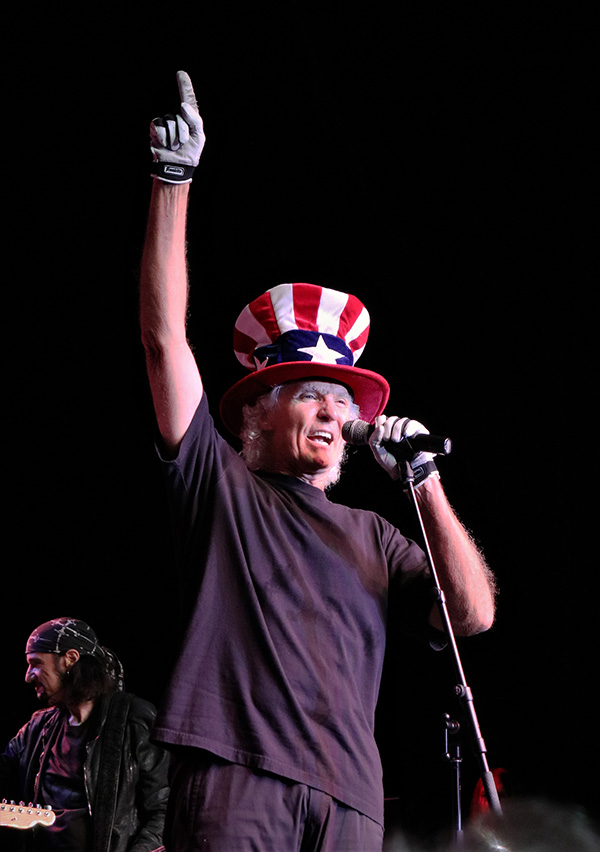 Photo by Ralph Reichenbach
Another treat came as John Ellison, the writer of the most recorded song in history "Some Kinda' Wonderful", made an appearance at the front of the stage as Grand Funk finished playing his classic soul song. John, who splits his time between nearby Hamilton, Ontario, and Tampa, Florida, was in the area and heard Grand Funk was appearing at the Del Lago could not resist the opportunity to come to the show and meet the band that recorded the most well known version of "Some Kinda' Wonderful". Introducing John, the sold out crowd gave him a standing ovation.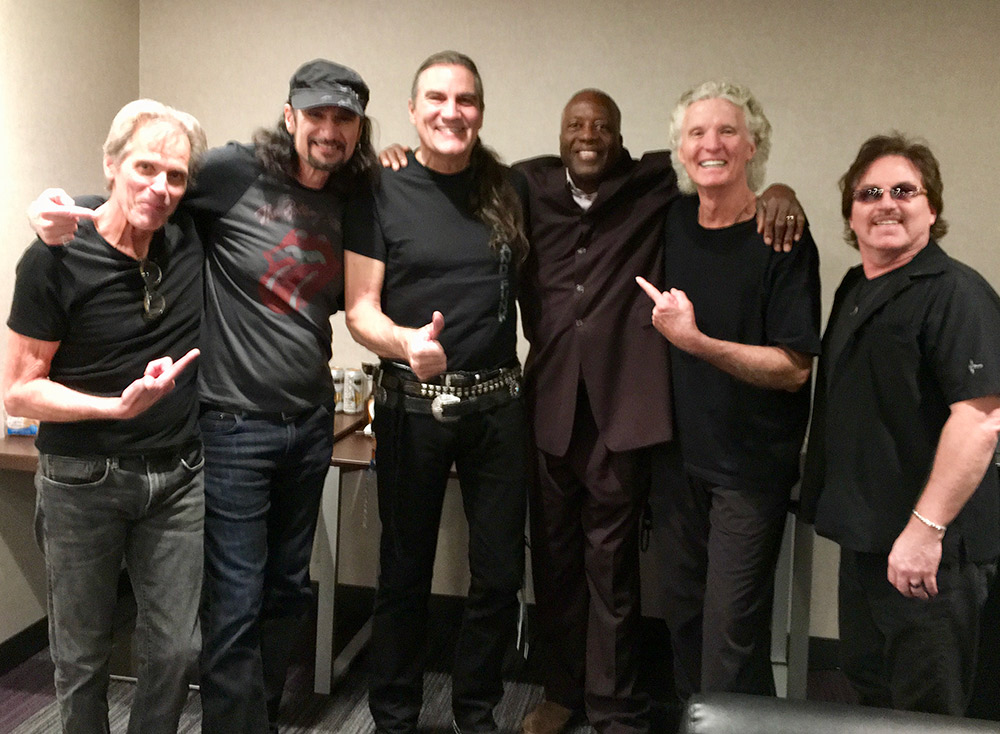 Post show, GFR and John had a chance to share stories of old and John told the guys how he wrote the song about a girl he was dating when he was playing with The Soul Brothers Six in the mid 60s.
What a terrific night in upstate New York. Some Kinda' Wonderful!
01-24-18 West Palm Beach, FL and 01-27-18 Effingham, IL
West Palm Beach, FL 1/24/18
SOLD OUT!
GFR got out of the cold and into nice warm West Palm Beach this week for their third appearance at the South Florida Fair. This is always a great play for the guys since the band was a huge success in South Florida in the early 70's and Don has been a local here for 38 years.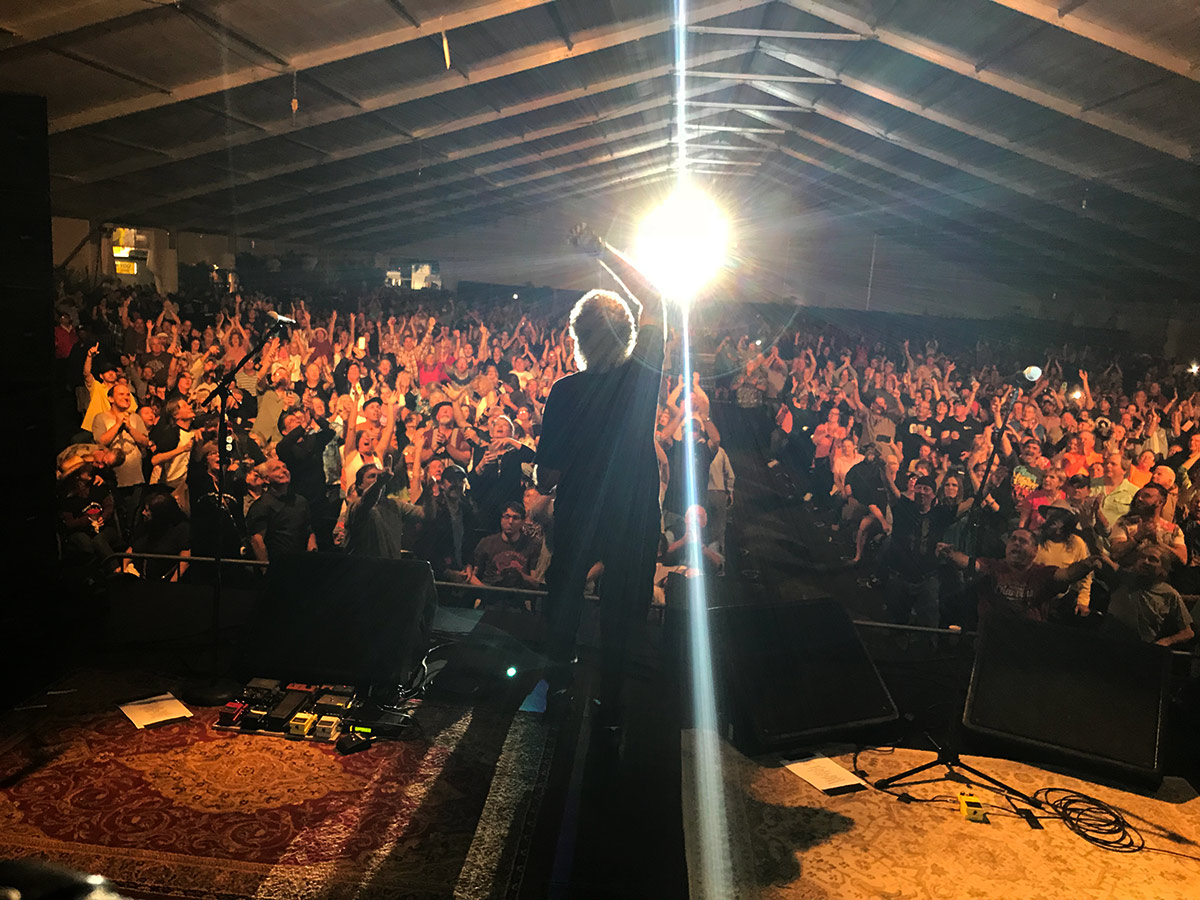 Photo by Don Baker
Playing to a SOLD OUT pavilion at the Coca Cola stage, the boys once again rocked and the audience rolled along with them. It was great to light up the multi-generational crowd with Locomotion, Some Kinda Wonderful, Closer To Home and We're An American Band.
Great pics to share from sunny West Palm Beach!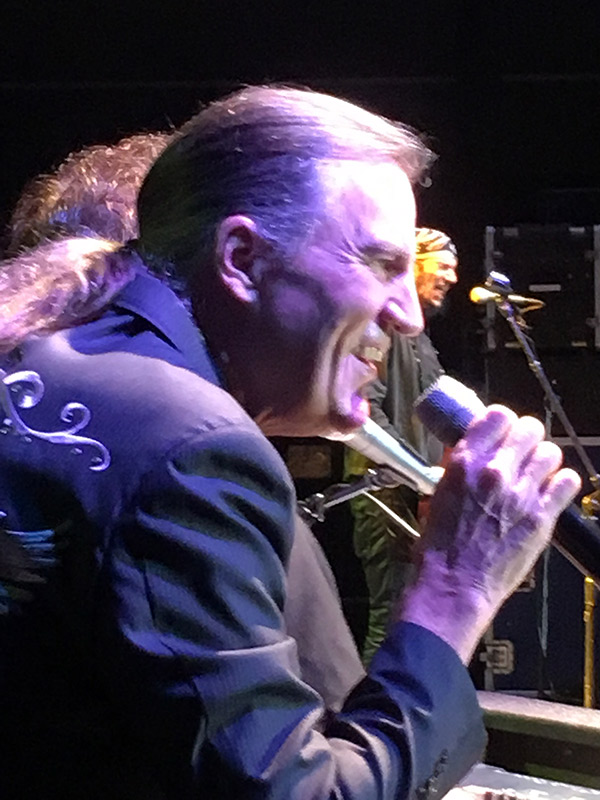 Photo by Sunny Quinn Brewer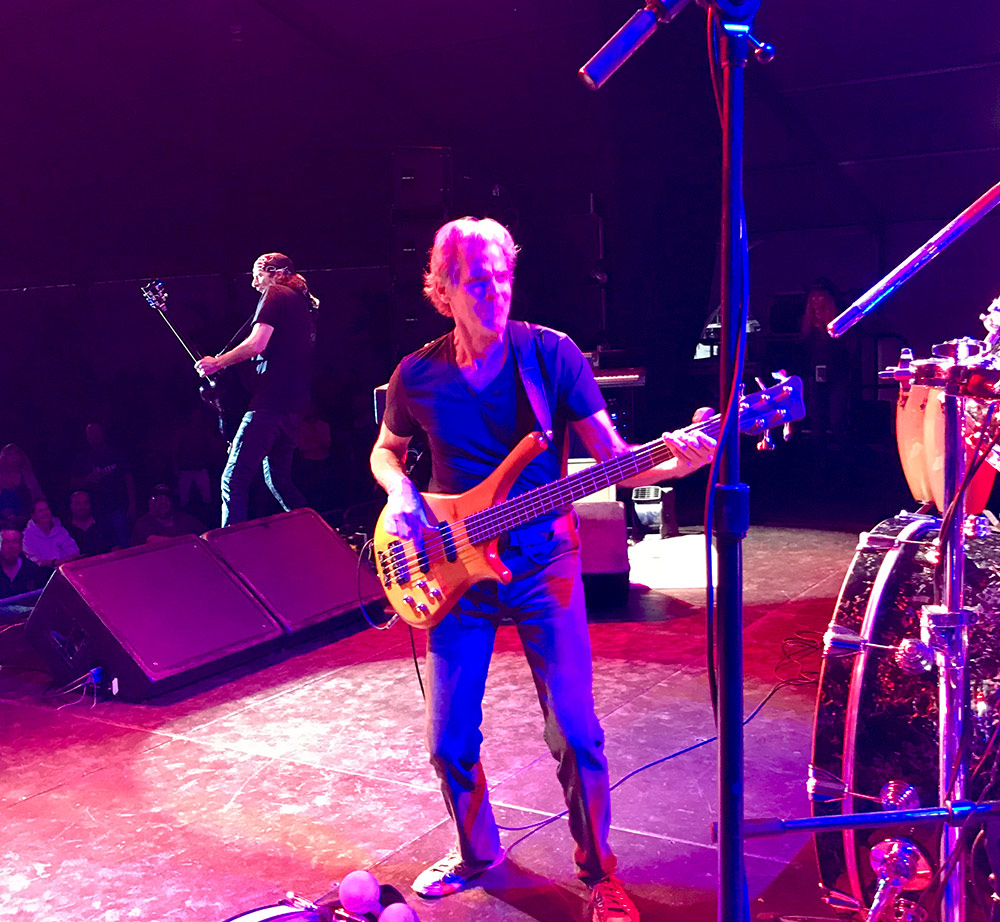 Photo by Don Baker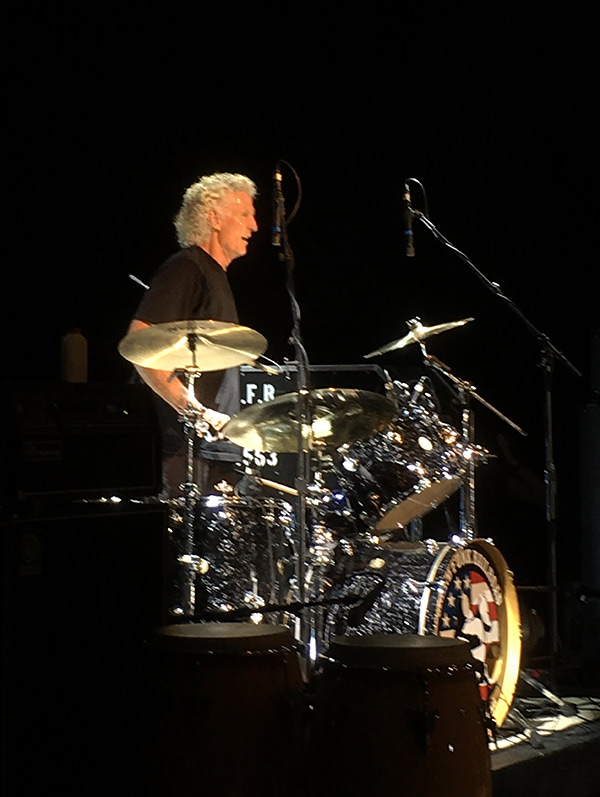 Photo by Sunny Quinn Brewer
Effingham, IL 1/27/18
Grand Funk flew back up north to St. Louis, Missouri, on Thursday...had a nice day off on Friday, and headed out to Illinois for a show at the Effingham Performing Arts Center. This is a great community theater that has become a regular tour stop for all the current touring Country and Classic Rock acts.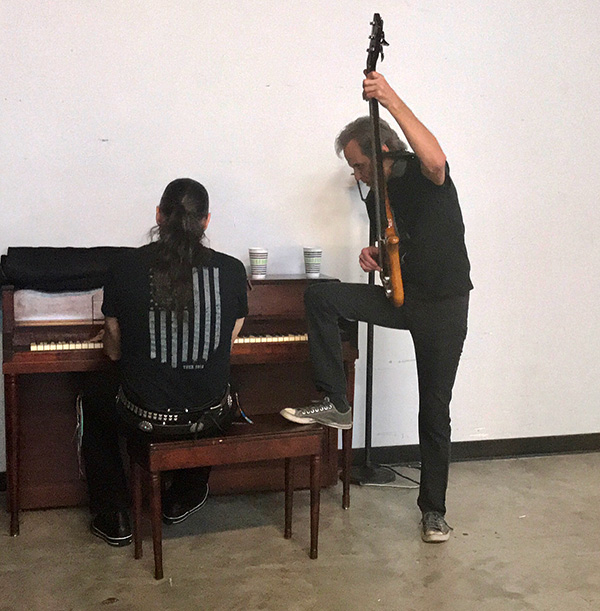 Photo by Don Baker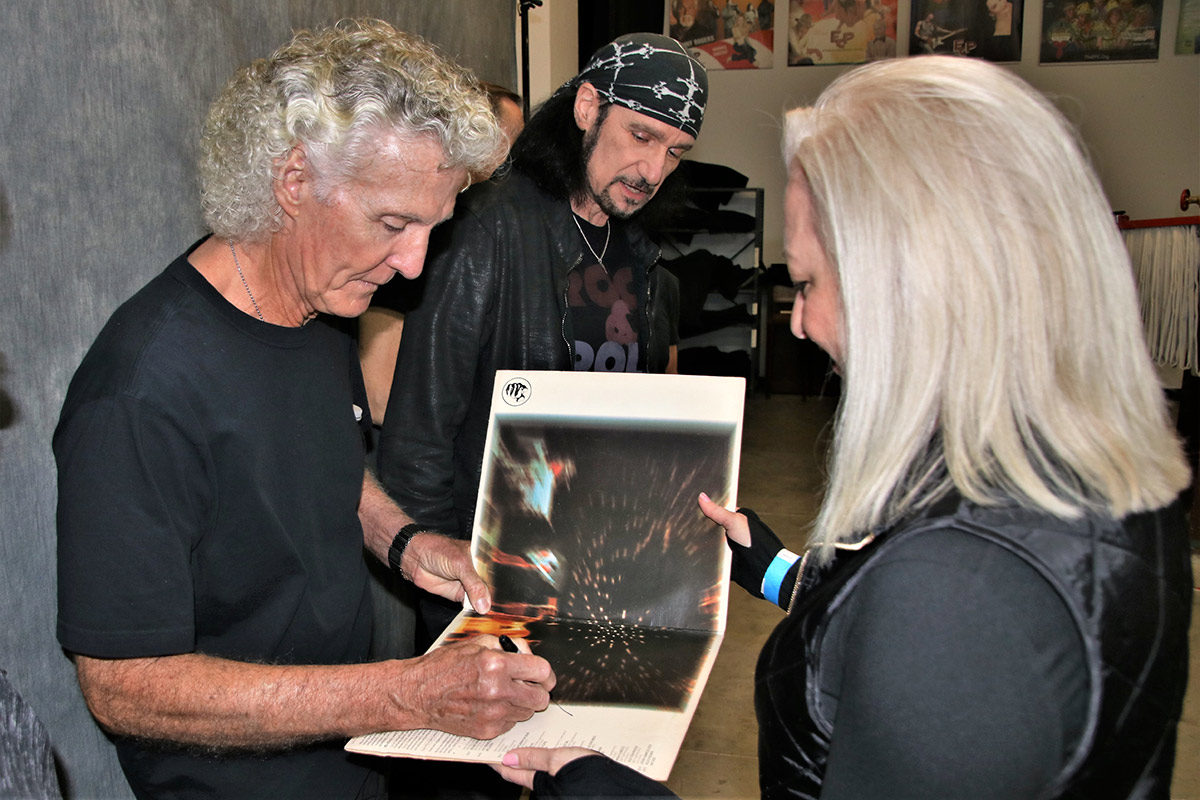 Photo by Ralph Reichenbach
Playing to a packed house on Saturday night, GFR laid down the groove and the crowd loved it.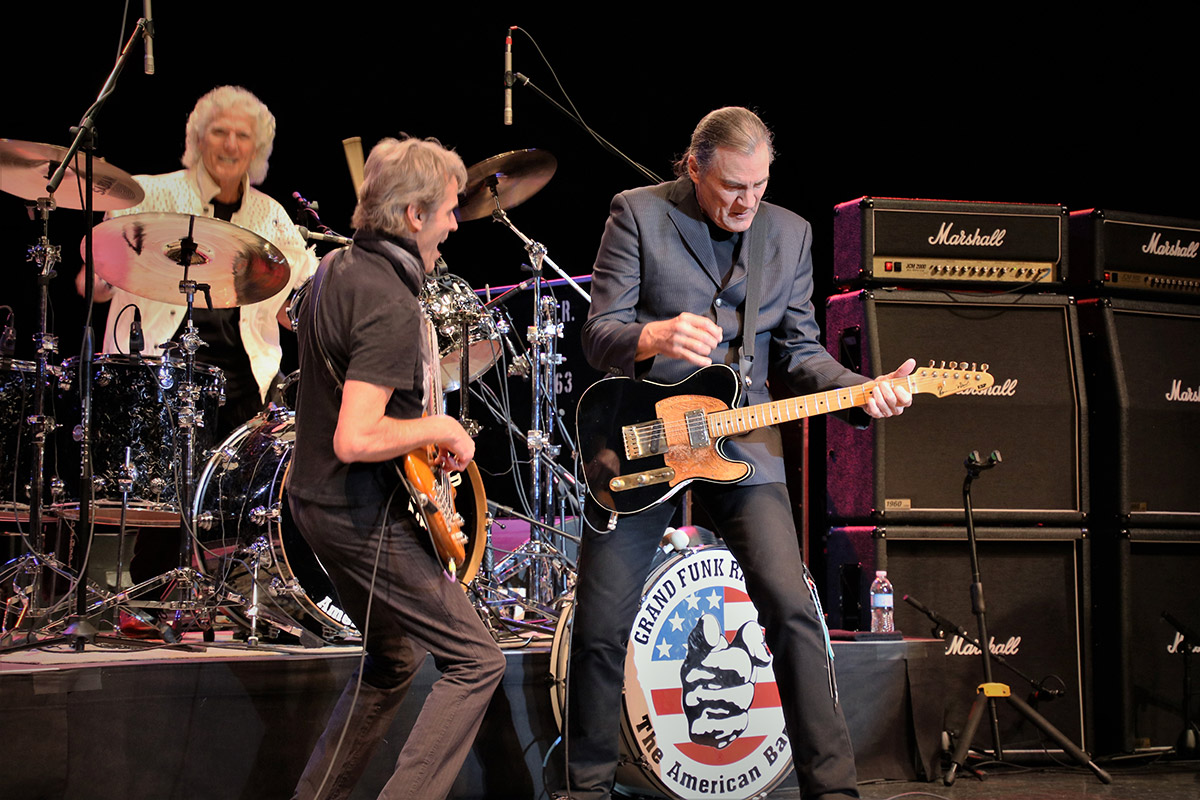 Photo by Ralph Reichenbach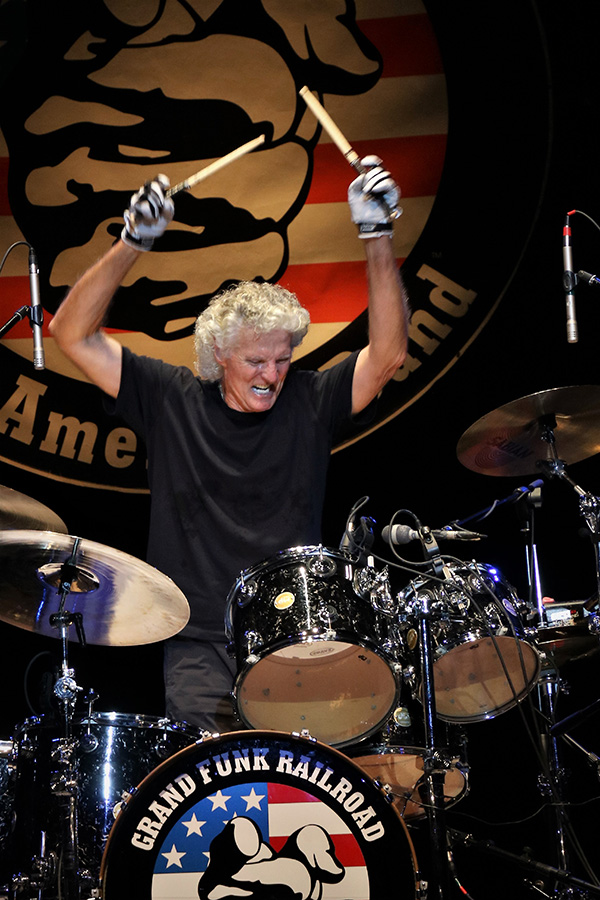 Photo by Ralph Reichenbach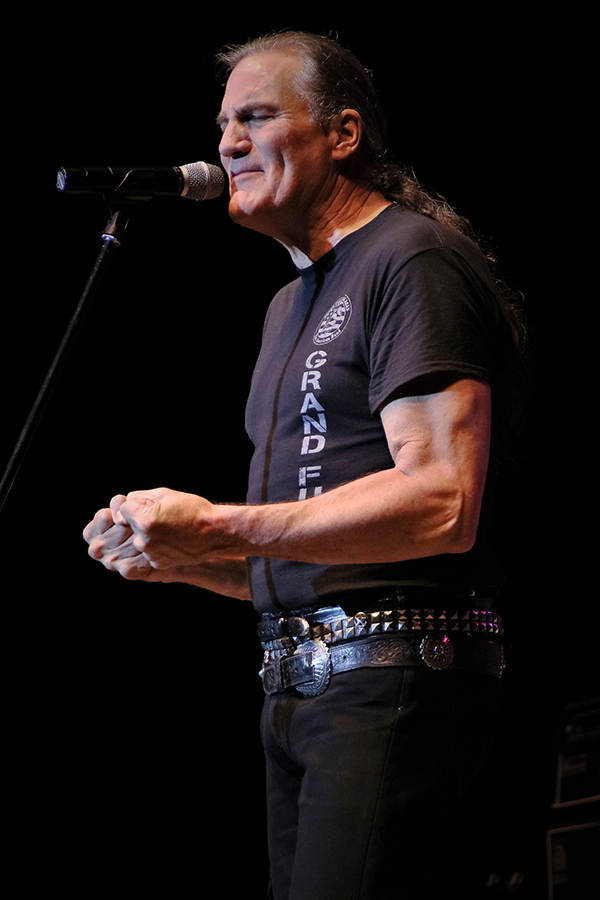 Photo by Ralph Reichenbach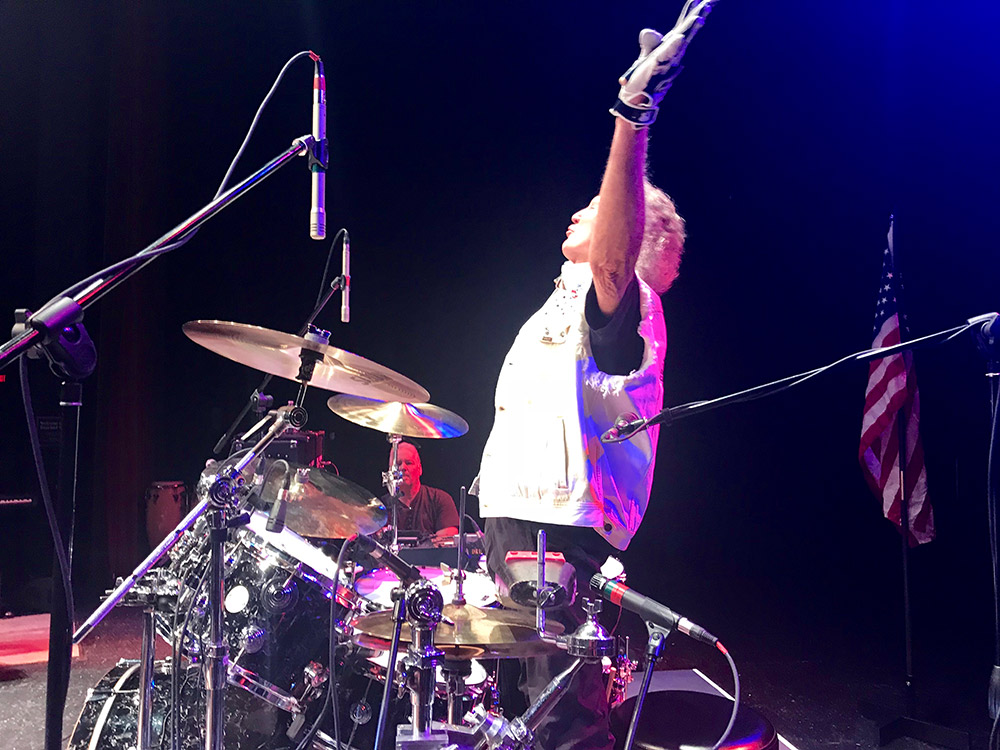 Photo by Don Baker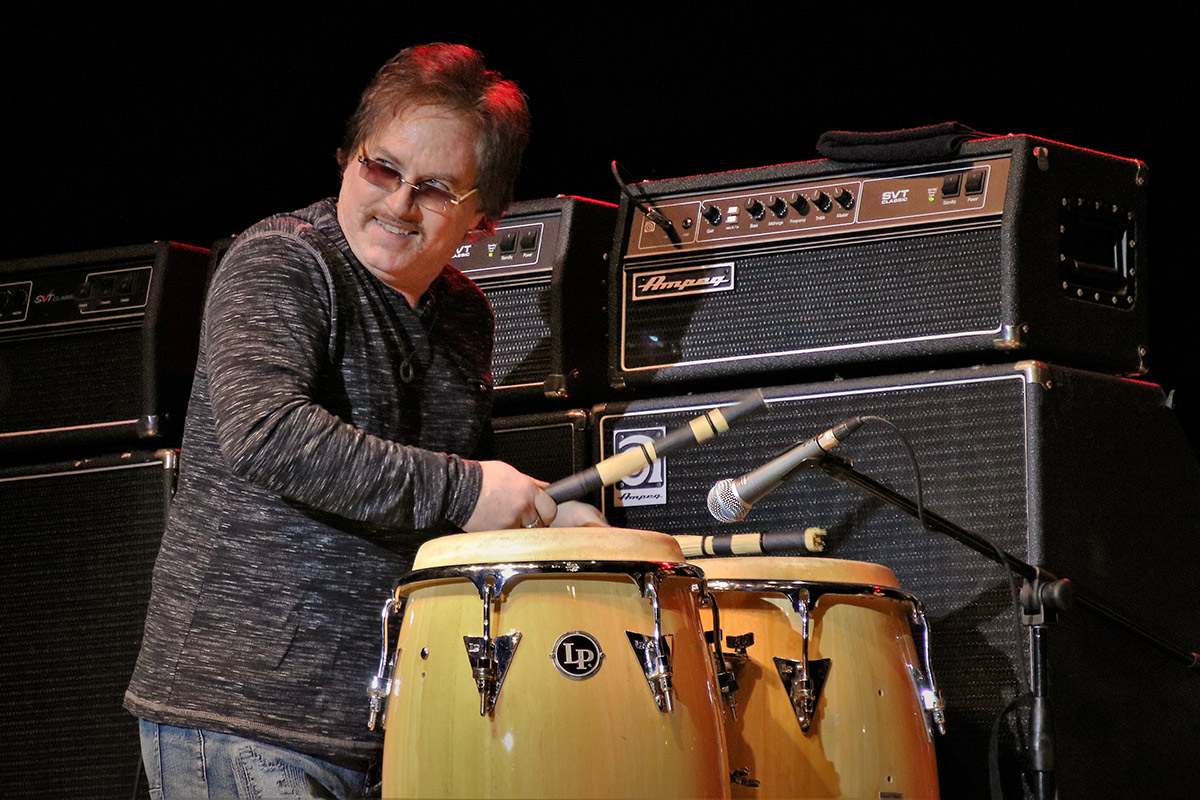 Photo by Ralph Reichenbach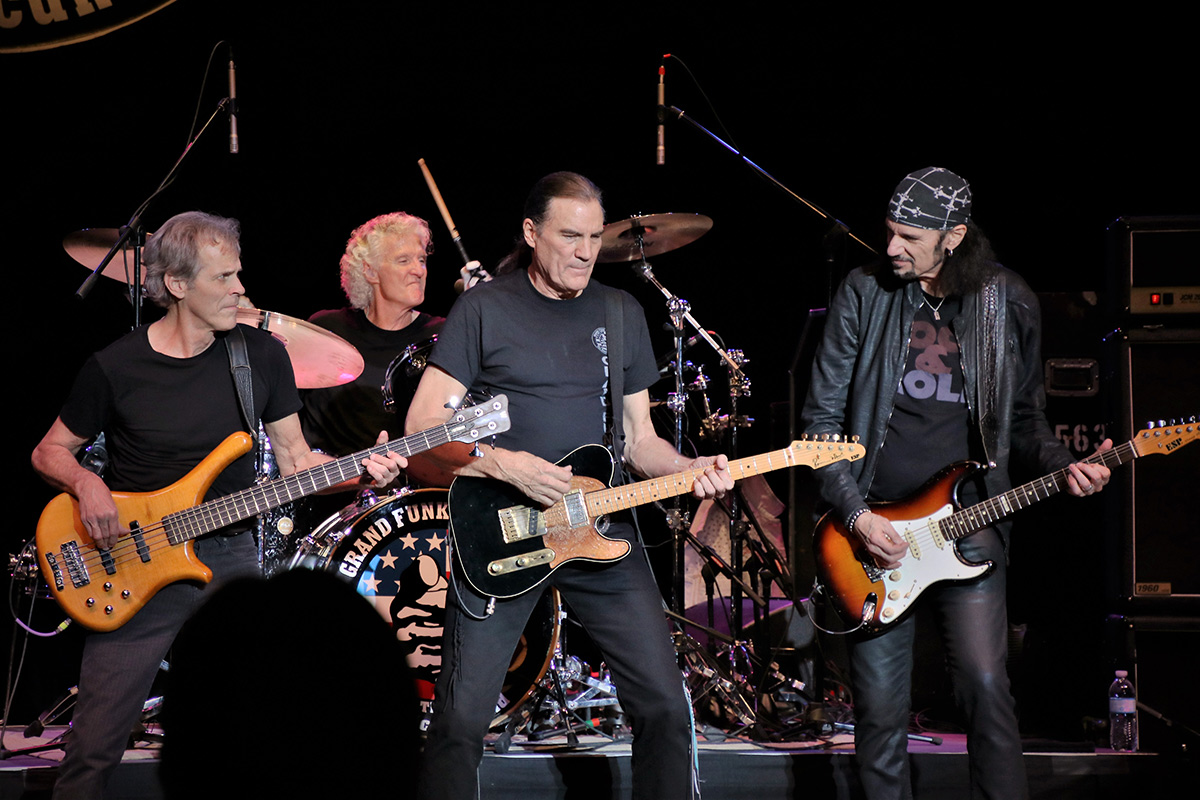 Photo by Ralph Reichenbach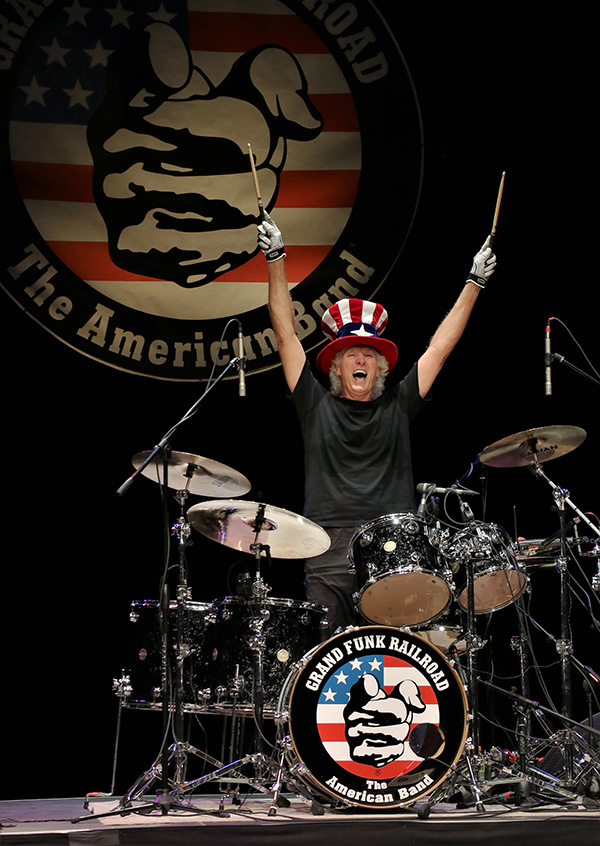 Photo by Ralph Reichenbach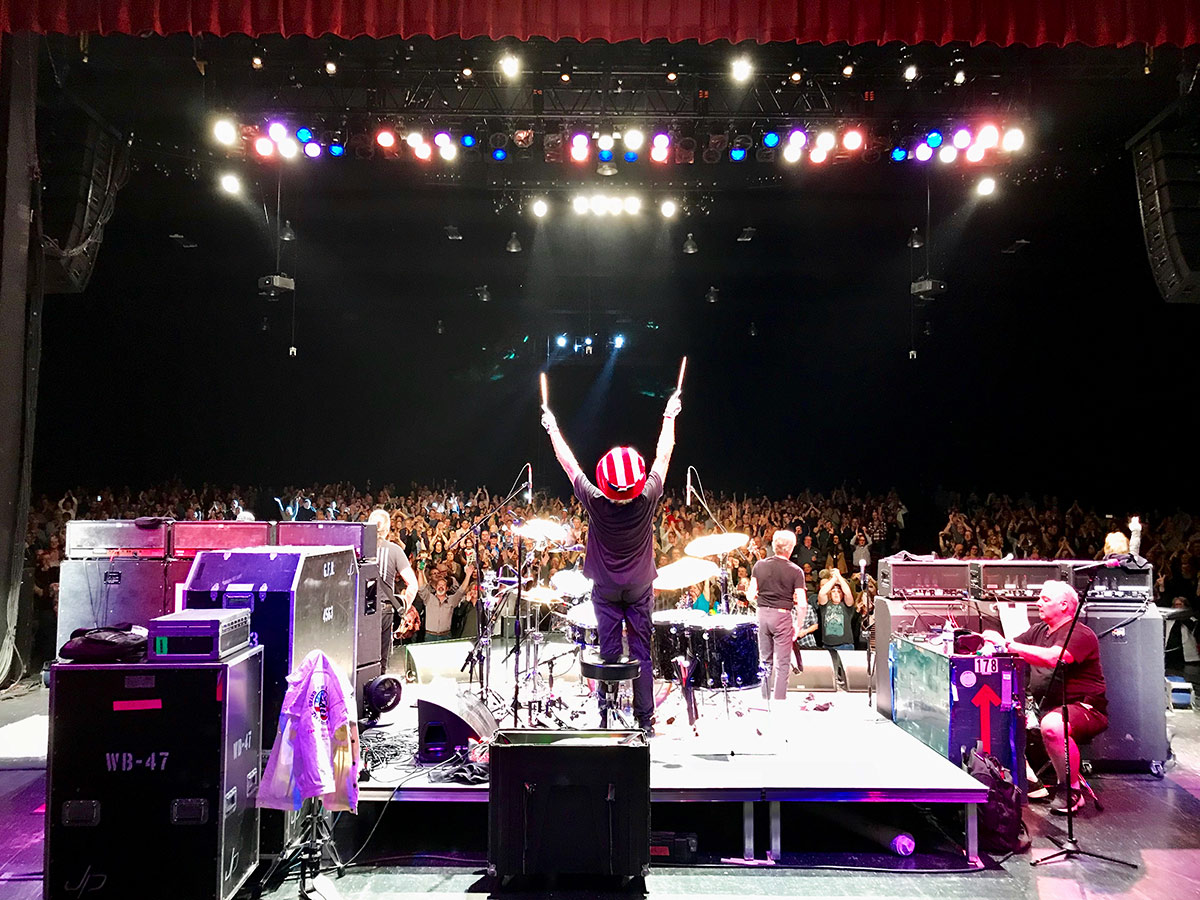 Photo by Don Baker
Stanley Sheldon, filling in for Mel, is doing an incredible job holding the band together with near perfect Grand Funk bass chops.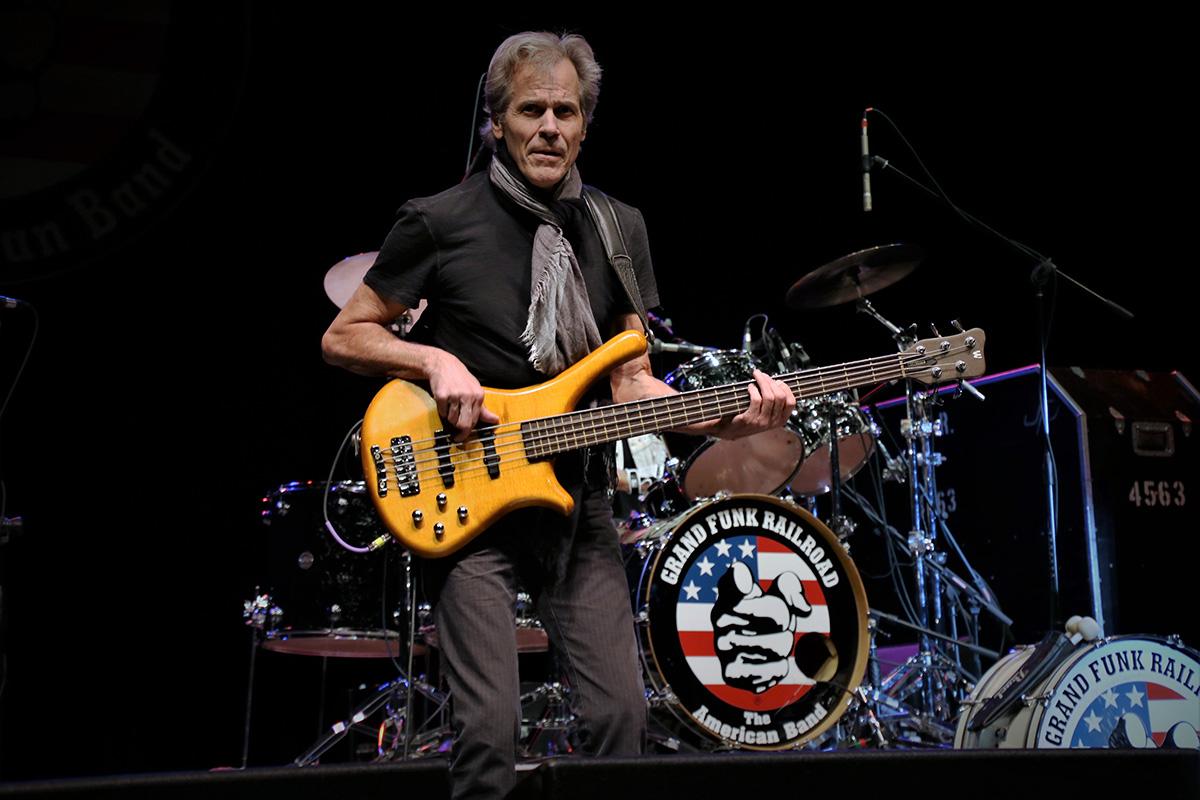 Photo by Ralph Reichenbach
Great to be back in the Heartland. Lovin' the USA!
01-19-18 Dover, DE and 01-20-18 Northfield, OH
GRAND FUNK 2018!   SOLD OUT!
Dover, Delaware 1/19/18
Who woulda thunk it!
Grand Funk kicked off another year with two back to back SOLD OUT shows. Starting out at the beautiful Dover Downs Casino Resort playing to a capacity Rollins Center crowd, GFR hit them with Rock & Roll Soul and Footstompin' Music and had them dancing in the aisles with Locomotion.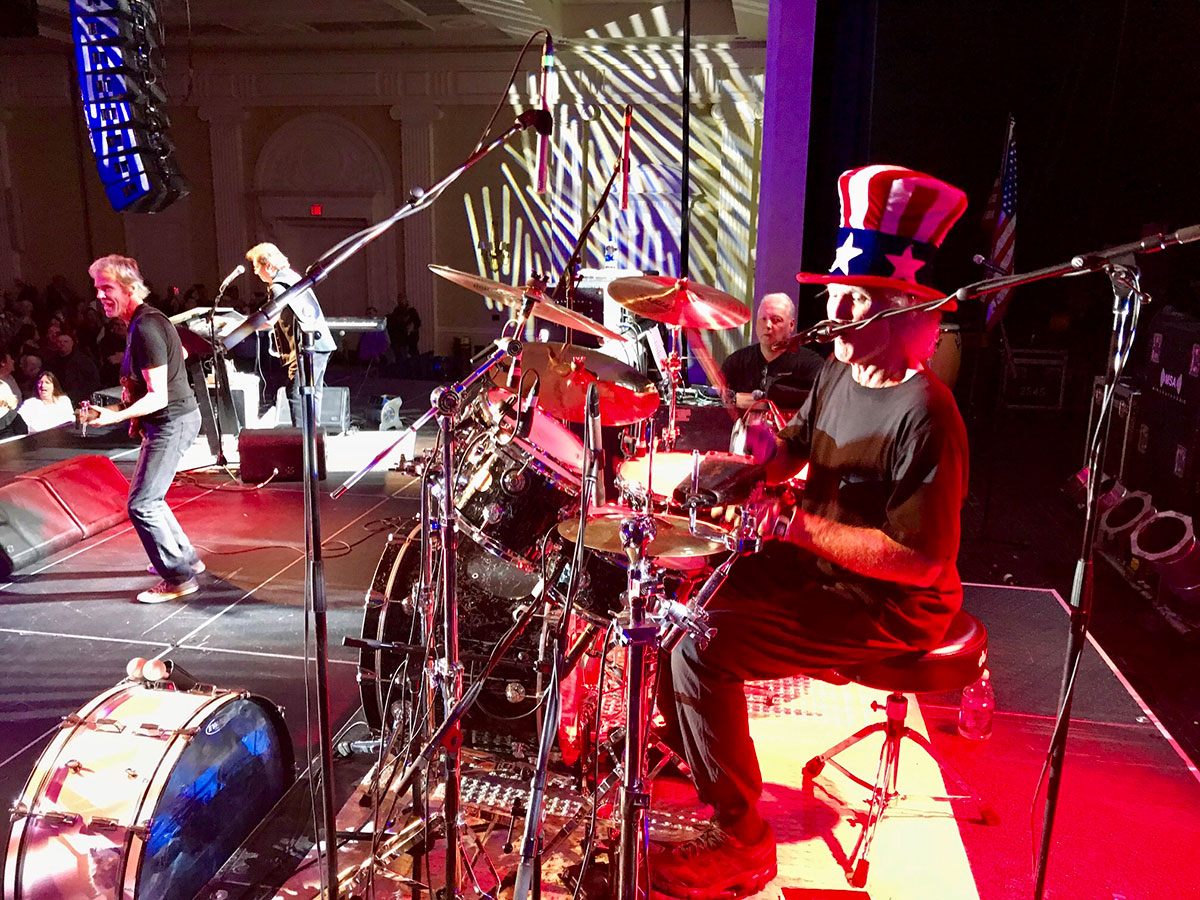 Photo by Don Baker
Brother Mel Schacher was unable to make these shows due to a sudden family emergency. Sitting in for Mel on bass guitar was classic rock bass icon Stanley Sheldon from Peter Frampton's band. Stan did a great job covering Mel's unique bass style and added some of his own signature bass groove. Thank You Stan!
The Delaware crowd rocked with the band the entire show.
What a way to kick off year 49 for The American Band!
SOLD OUT!
Northfield, Ohio 1/20/18
Catching a non-stop out of Philly to Grand Funk's old stompin' ground Cleveland, Ohio, the guys had just enough time for a soundcheck and a snack before getting ready for another SOLD OUT performance at the Hard Rock Rocksino in Northfield, Ohio, located about 18 miles south of Cleveland's Rock & Roll Hall of Fame.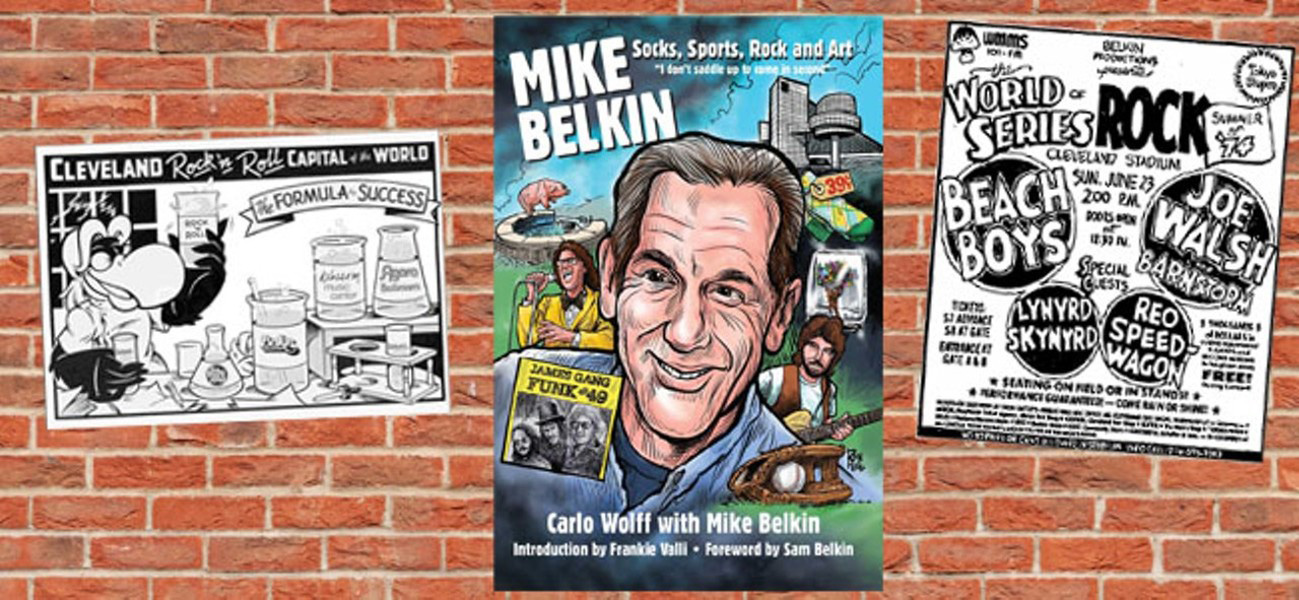 As it happens, "Rock Royalty Promoter" Mike Belkin was doing a book signing at the casino for a new book about Mike's life in the Rock & Roll Biz. Don and Mike had a chance to reminisce about old times and Rock history. Mike and his brother Jules promoted many Grand Funk shows in the early 70's.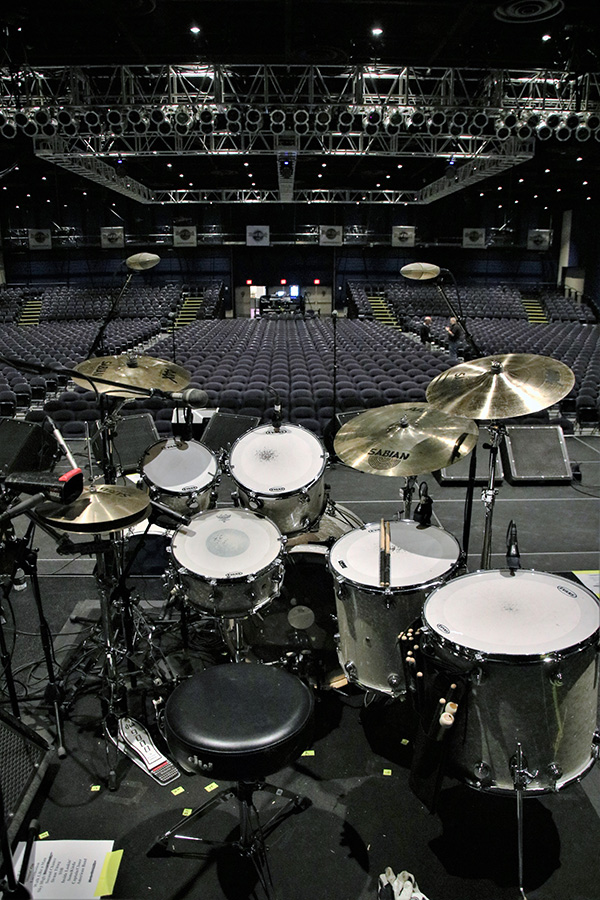 Photo by Ralph Reichenbach
The over-capacity crowd of Ohians were primed and ready when GFR took the stage at the state of the art Rocksino concert venue. The band proceeded to rock like it was 1969. The audience was on board the entire show, on their feet and yelling through Don's drum solo, and cheering standing for "We're An American Band"!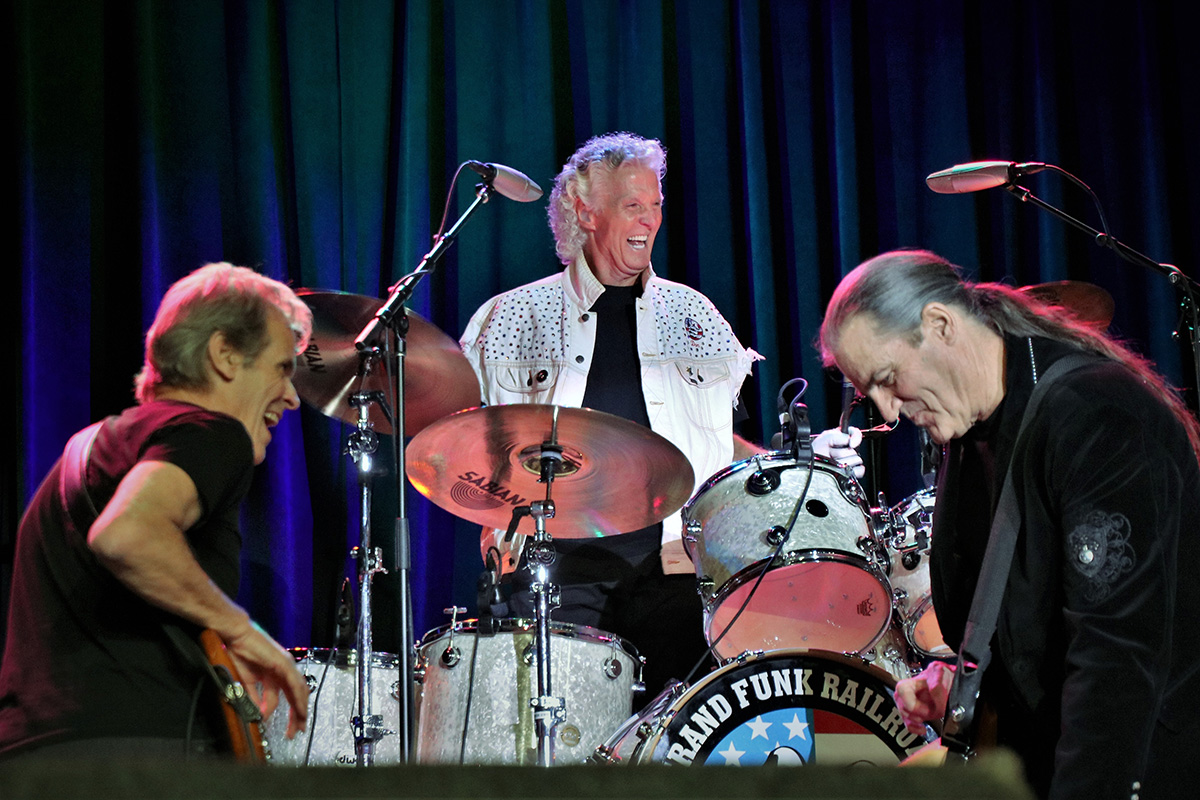 Photo by Ralph Reichenbach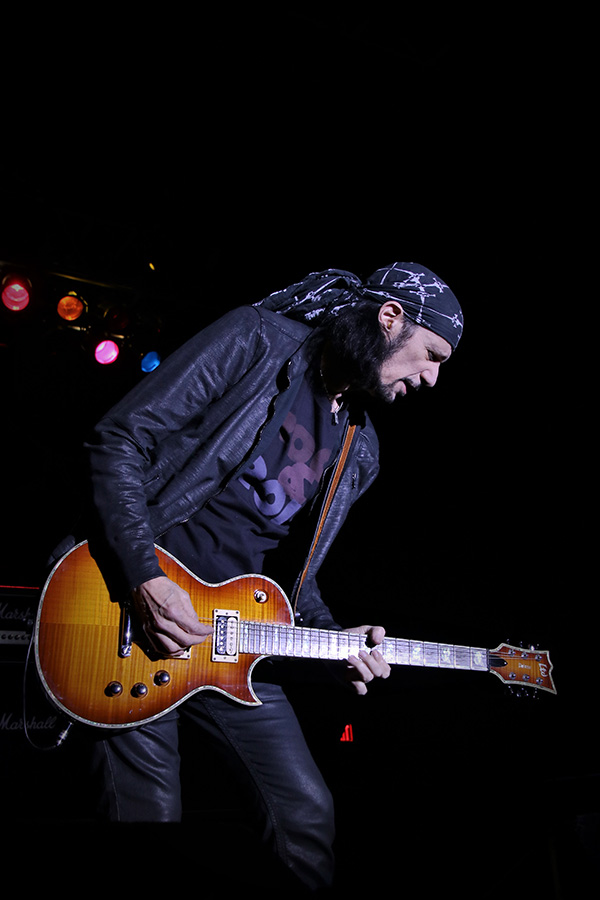 Photo by Ralph Reichenbach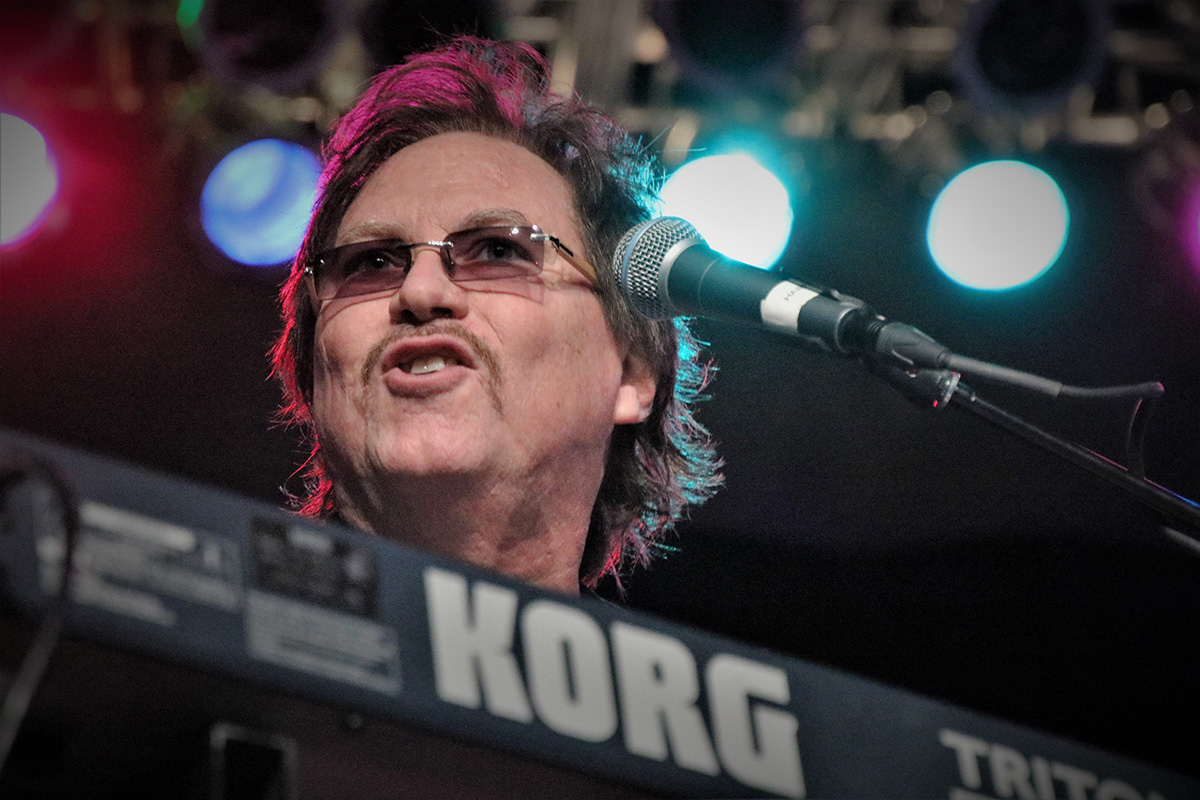 Photo by Ralph Reichenbach
The American Band has still got it in 2018.
God Bless America!