New 2017 Camo Tour Shirt!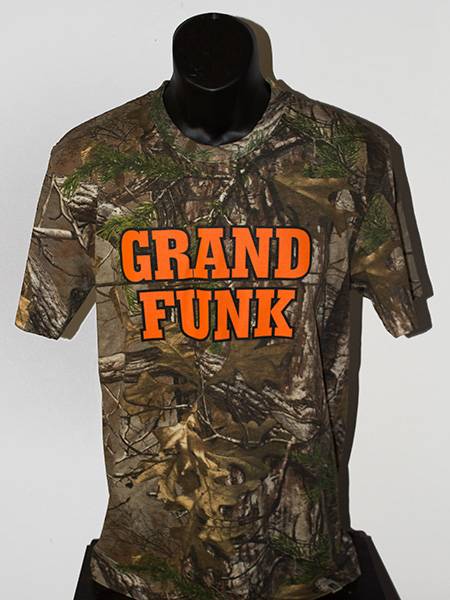 ABC News Radio interview about Hi-Fidelity version of Shinin' On release!

New 2017 Black Tour Shirt!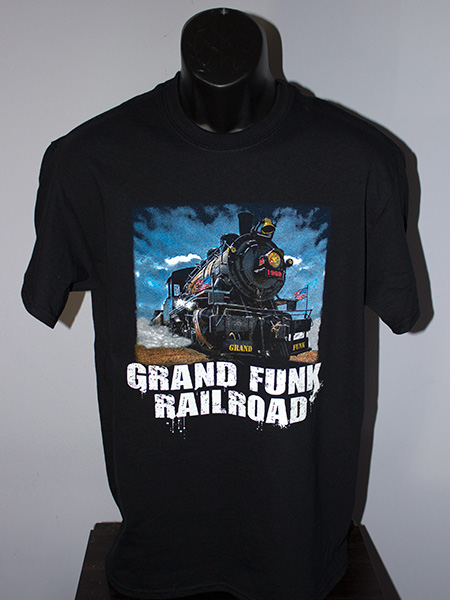 New 2017 Grey Tour Shirt!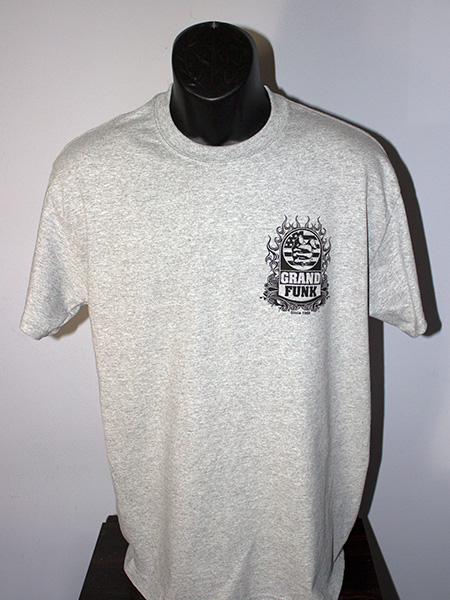 New "Classic" White Shirt!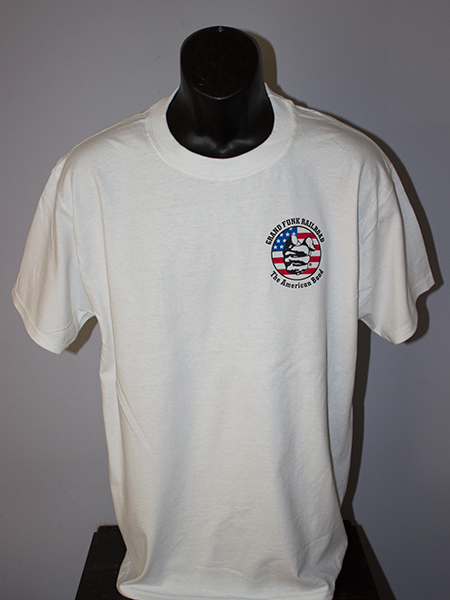 Limited Edition SACD of Shinin' On!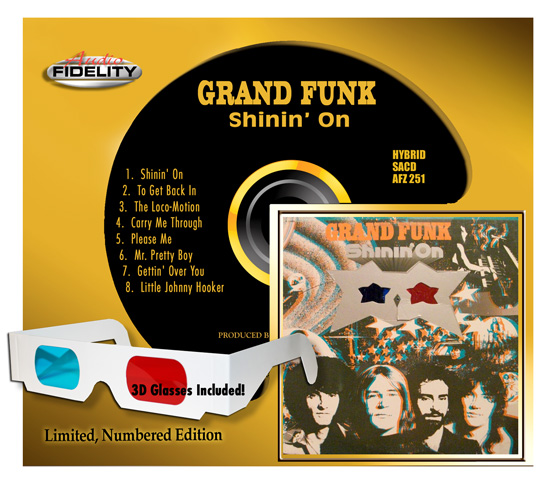 For Immediate Release
Audio Fidelity To Release Grand Funk's Shinin' On in Original 3-D Art Package on Limited Edition Hybrid SACD
Includes a BONUS pair of 3-D Glasses!
Camarillo, CA - Marshall Blonstein's Audio Fidelity will be releasing Grand Funk's widely popular classic rock album Shinin' On on limited edition hybrid SACD. Riding high off the success of their 1973 We're An American Band hit album and tour Grand Funk retained the extraordinary Todd Rundgren to produce Shinin' On, the band's eighth album.
Don Brewer, Mark Farner, Mel Schacher and Craig Frost took the band to another level. The songs are tight, the vocals are excellent and the group is in top form. Shinin' On is pure Grand Funk and considered a favorite among many fans and critics.
Shinin' On's best songs are the tracks that became the hit single releases: the SACD opens with the dynamic title track augmented by Craig Frost's keyboard work and pumped-up behind Don Brewer's aggressive vocals the track infuses its hard-driving, spacey rock groove with some surprisingly ethereal vocal harmonies. The cover of the Carole King and Gerry Goffin penned "The Loco-Motion" turned this dance classic on its ear with a stomping beat and a screeching guitar lead from Mark Farner that shot the chuggin' pop remake straight to #1 on the Billboard singles chart and helped drive gigantic album sales.
Closing-out the album is Grand Funk's amped-up blues rocker "Little Johnny Hooker" which features Farner's powerful and driving guitar work.
The original album was packaged in a cosmic 3-D sleeve that had a pair of 3-D glasses embedded in the front cover to best appreciate the dramatic art work. Each Audio Fidelity Shinin' On SACD slip case will include a pair of 3-D glasses so the brilliant art work can be viewed as originally intended.
Another legendary hard-rocking album from Mark, Don, Mel and Craig – Grand Funk! So pump up the volume, break out those classic 3-D glasses and keep on shinin' on!
TRACKS
Shinin' On
To Get Back In
The Loco-Motion
Carry Me Through
Please Me
Mr. Pretty Boy
Gettin' Over You
Little Johnny Hooker
Produced by Todd Rundgren
Mastered by Kevin Gray at Cohearent Audio
SACD Authoring: Stephen Marsh at Marsh Mastering
Release date: January 27, 2017
Grand Funk Railroad's official website: http://grandfunkrailroad.com/

For more information: http://www.audiofidelity.net/

Press inquiries: Glass Onyon PR, PH: 828-350-8158, glassonyonpr@gmail.com

Bakersfield Review!
GFR performs at a veterans benefit!
thedailyreview.com (post-show)
New interview from Someday Productions LLC and Pillow Talking!

Secret City Festival 2016 review!
New interview from Rock Music Star!

New interview from GoBe Weekly!

New Review from Newkirk, OK Show!

New Feature - Updates from the Road!
GRAND FUNK has just fired up a new way for you to get frequent news and photos from their tour. "OUT ON THE ROAD..." will take you on the road and backstage, from the stage to the dressing rooms. Enjoy notes and savor new pics of the band and crew as the American Band comes to your town to help you party it down!
Can't make a show? Check in with the Tour page often to see new updates!

Check out the latest arrivals in our merchandise store!
2016 Tour Shirts!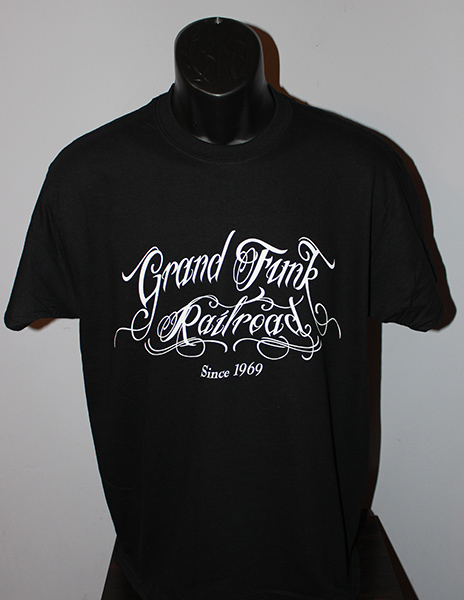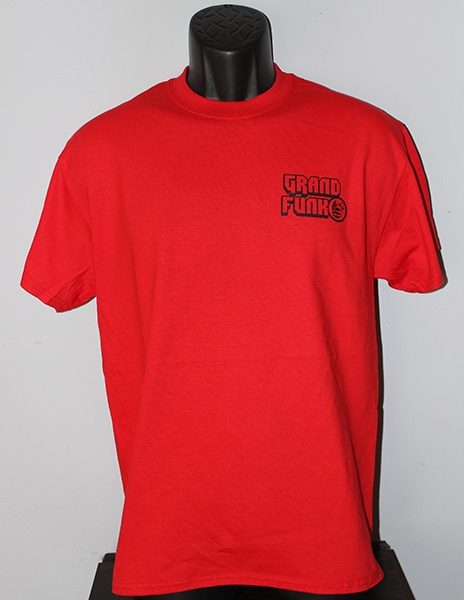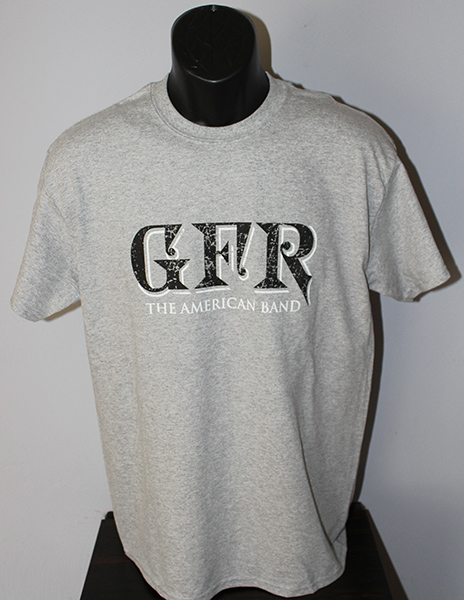 New Football Jersey!

Interview by Music Recall Magazine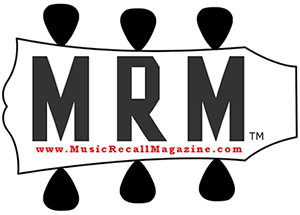 New interview on Michigan Radio!

Looking for more digital Grand Funk Railroad music?
Check out these three download options:
Amazon offers the GFR catalog in both CD and mp3 formats.
iTunes has digital downloads in multiple audio formats.
Spotify provides streaming downloads of Grand Funk music.
And, don't forget the CDs available in our GFR store including the CD/DVD package!
GRAND FUNK parties down in London, Ontario - July 27, 2013!

GRAND FUNK draws largest crowd of summer at the
Rockin' The Riverfront concert series in downtown Detroit - July 26, 2013!
GRAND FUNK Rocks Ottawa Blues Fest - July 4, 2013!